Accuscore's FIFA World Cup 2018 – Knockout Stages
The group stage of the FIFA World Cup 2018 is finished and the top 16 teams are set. There were a couple of surprises and Accuscore's initial prediction of the teams heading to playoffs had 13 out of 16 teams correct. The biggest disappointment – and surprise – was of course the reigning World Champions Germany failing to qualify from their supposedly easy group, but it was brave Sweden who took their place. In other groups, Switzerland took the place Accuscore predicted for Serbia and Japan managed to climb over Poland despite losing their head to head game.
The knockout stages are predetermined in a way that the road to winning the World Cup for each team is clear. With Accuscore's simulation engine it's possible to predict the whole tournament beforehand and make updates as is unfolds. The pre-tournament predictions had Argentina and Brazil facing off in the final, with Germany and Uruguay challenging. It is obvious Germany is now out, but how has the tournament data changed the predictions for the coming rounds?
Here's how updated Accuscore's FIFA World Cup 2018 bracket looks like after the group stage and before the first knockout round: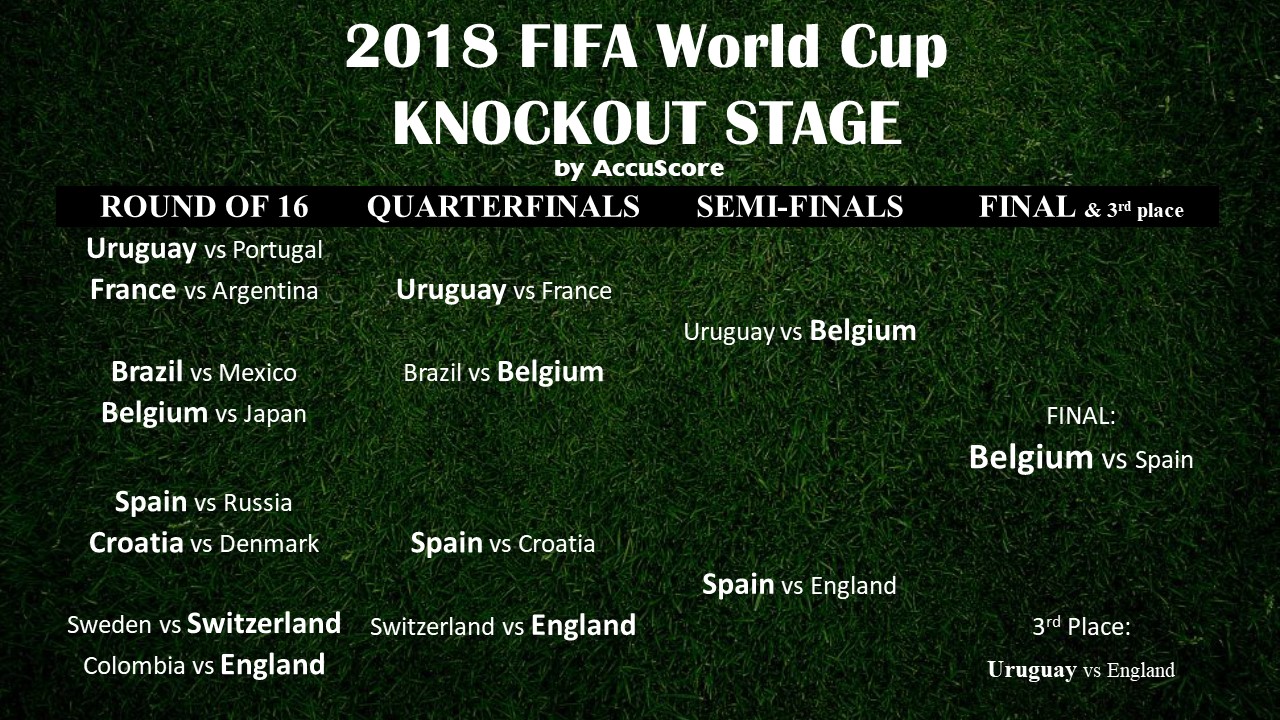 There are not any massive surprises expected in the first round. The most of the big favorites stay alive, but Argentina's lousy play in the group stage has made them fall from grace and now they're likely to be ousted by the French. Uruguay is still going strong after a great display in the group stage and they are likely to send Portugal packing. England is also a narrow favorite to overcome Colombia, but that pair is extremely close as is the surprise teams Sweden vs Switzerland game. The Swiss have an upper hand, but it's as close as it gets.
Going forward it is Belgium that has impressed the most, especially statistically speaking. They are now the biggest favorites to take home the trophy, if only by smallest of margins first over Brazil, then Uruguay and finally Spain. The percentages for Belgium's wins hover only around 52% so it's still anyone's game!
To gain access to all the predictions and picks on FIFA World Cup 2018 - and much more - subscribe to Accuscore! Membership features star-rated value picks and player performance predictions for all the major leagues in various sports. JOIN NOW!