FIFA World Cup 2018 - Knockout Stage & Winner
After going through the group stage the teams face an elimination round of 16, which only the winner survives. The field is now set, based on Accuscore's FIFA World Cup 2018 Group Stage Preview and Predictions – so the only thing remains is to find out what is most likely to happen in the knockout stages.
And here we go, bolded teams are the ones more likely to progress – be it after 90 minutes of play, or overtime/shootout: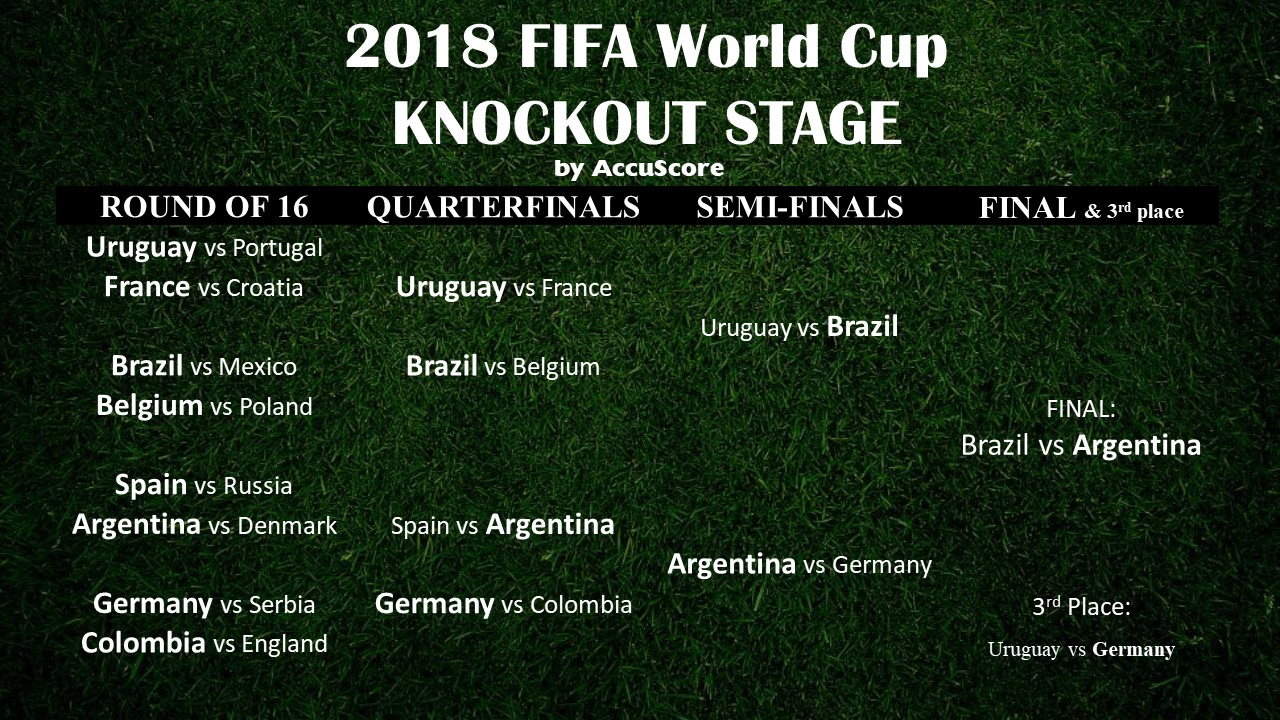 So the story goes, according to pre-tournament simulations with the knockout stages set based on Accuscore's FIFA World CUP 2018 Group Stage Preview and Predictions. It is no surprise that most of the games are extremely close at this stage and even the slightest changes, such as injuries or suspensions, might have grave effect on any team. Keep in mind also, that this scenario is only the most likely one, there are countless different outcomes if the pairings change after the groups.
That being said, it seems that one particular team is doing way better than anticipated – Uruguay. Placed only barely in top-10 according to current market odds, Uruguay upsets reigning European Champions Portugal in the first round and then goes on to oust the new generation French dream team. Brazil and eventually Germany prove to be too much, but Uruguay – led by two magnificent goal scorers Luis Suarez and Edinson Cavani – might just be the dark horse of the FIFA World Cup 2018.
Accuscore's 2018 FIFA World Cup Winner
As the chart above indicates, it seems to be a year of the South American teams. The European sides might not exactly feel at home in Russia, which might give a small edge to other region's representatives.
It is no surprise Argentina and Brazil are the most likely winners according to Accuscore 2018 FIFA World Cup simulations. Both have a lot to prove after the last World Cup and at the moment Argentina is just slighly better option. The Germans, of course, have their say and will be right up there to challenge Argentina on the way. This time around it is the Argentinians who prevail and then it's a complete coin toss against Brazil in the final. Germany goes on and takes the 3rd place after Uruguay's fantastic run.
Out of the top-4 assessed by the odds market, France and Spain fail to make it to semi-finals and are replaced by 5th Argentina and 9th Uruguay. Out of the top-8, England and Portugal fail to make it and are replaced by Uruguay and Colombia – yet another South American team.
As the winning probabilities go, Accuscore's most likely 2018 FIFA World Cup Winner is:
| | |
| --- | --- |
| Argentina | 14% |
| Brazil | 14% |
| Germany | 12% |
| Uruguay | 9% |
| France | 8.5% |
| Spain | 6% |
| Belgium | 6% |
| Colombia | 4% |
To gain access to all the predictions and picks on FIFA World Cup 2018 - and much more - subscribe to Accuscore! Membership features star-rated value picks and player performance predictions for all the major leagues in various sports. JOIN NOW!