Final Four in World Cup
Four teams remaining in FIFA World Cup 2018 and the plot thickens. It is France vs Belgium, those friendly western European neighbors and Croatia vs England, with not much history together. In Accuscore simulations, Belgium was on top of the pile before the previous round with Croatia likely to beat England. After compiling the tournament data from the quarterfinals, things have changed – if only a little bit. Here's the updated bracket of the remaining FIFA World Cup 2018.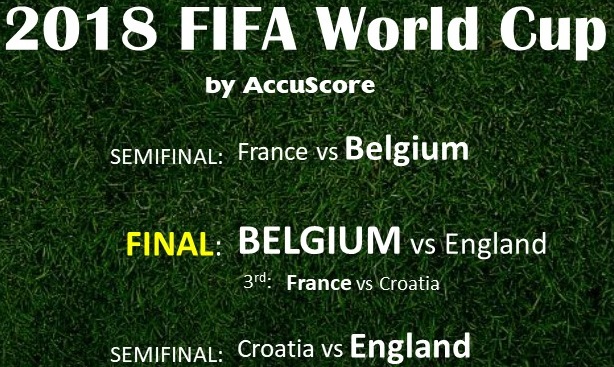 The semifinal between France and Belgium is an absolute thriller with practically no difference in simulations percentages. Belgium is favored by less than a percentage and is the favorite against both, England and Croatia, going forward. Same goes with France and the pair is very likely to feature the future World Champions.
After struggling, again, to penalties against Russia, Croatia has somewhat fallen from grace in their semifinal against England. Their production levels have gone down and fatigue seems to have kicked in. England was impressive in breaking down Sweden's defensive unit and are now clear favorites to proceed to the final.
Not a member yet? JOIN ACCUSCORE NOW to get the most out of the profitable FIFA World Cup 2018 picks and predictions!