The first knockout round of FIFA World Cup 2018 definitely had it all for the fans. From the thrilling penalty shootouts, featuring a massive shocker of Spain failing against Russia, to goals galore of France and Argentina and defensive battles of Denmark vs Croatia and Sweden vs Switzerland, it will be hard to beat the excitement in the next rounds. But that's where we're headed and expectations are sky-high.
In Accuscore's predictions for the top eight, six teams made it through the 1st knockout stage. France, Uruguay, Brazil, Belgium, Croatia and England did what was expected – more or less. Missing the cut this time were Spain and Switzerland, who both got beat by defensively minded opponents, Russia and Sweden. Russia's surprise win in the penalties was the biggest shock in the tournament, along with Germany failing to qualify from the group stage. Sweden and Switzerland were evenly matched to begin with and it was tactically sound Sweden to prevail in the coin toss.
You can find all of Accuscore's picks and predictions for the World Cup from Accuscore.com!
The quarterfinal stage of the tournament sees some intriguing matchups. The top side of the bracket features offensive powerhouses Brazil and Belgium take on each other, while Uruguay's rock solid defense is facing offense heavy France. The bottom side includes a couple of surprise teams as relentless Russia tries to stop Croatia's midfield and Sweden battles against the rejuvenated England.
Accusore's simulations for the final stages follow quite closely the original and this is how it's most likely to look like: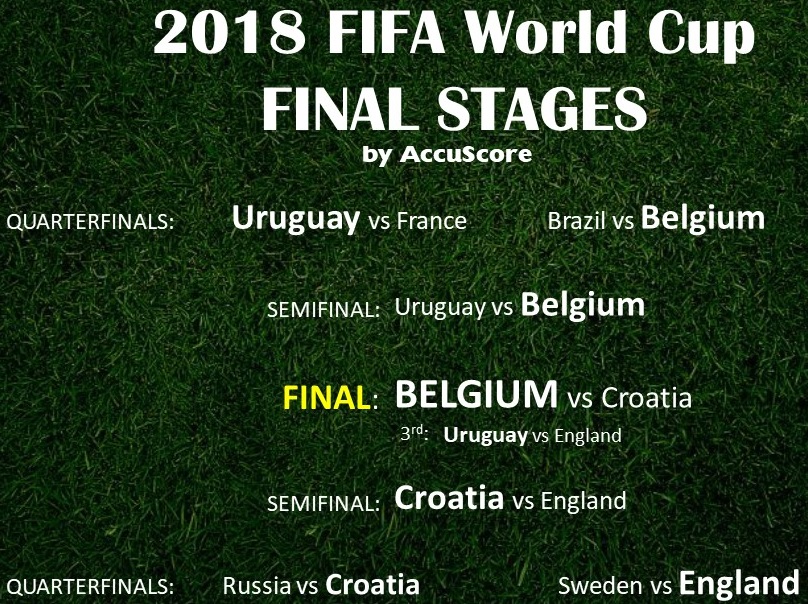 Accuscore Analysis – Quarter Finals
As previously predicted, it is Belgium all the way – if only they manage to pull one over Brazil. The game is very likely an entertaining offensive showdown. Belgium almost collapsed agains minnows Japan, but came back from 0-2 deficit to win 3-2. Belgium's attackers have been a little bit more efficient so far in the tournament than the Brazilians, which might be a bit of a surprise. Another surprise is Brazil's excellent defense, which kept Mexico at bay in their 2-0 win and has played with great discipline and grit. Belgium's defense has been a bit shaky and it could be the B&B quarterfinal game will see plenty of goals by the talented teams. Without Casemiro guarding the defensive line, Brazil is a bit weaker in it's own end.

Accuscore simulations indicate Belgium to progress by a tiny margin with 52% probability.
Another close battle will be fough between the most likely eventual 3rd place team Uruguay and France. The game is all even in many standards, with great goalkeepers, tight defenses and talented offensive players. France perhaps has a small edge in offensive talent, but Uruguay takes the defensive battle. France blasted four goals past Argentina's disorganised defense, but also conceded three times. Uruguay on the other hand rode Edinson Cavani's two goals to 2-1 win against Portugal and have only conceded that once the whole tournament. It remains to be seen if Uruguay will change to an even more defensive system now that Edinson Cavani is likely out, but be as it may, they have plenty of options – even if Cavani is irreplaceble up front. In Accuscore simulations it's a very close game and practically even odds for all three possible results after 90 minutes.

Uruguay has a tiny, less than a percentage edge to win it one way or another and they continue with 51% probability.
The bottom of the bracket is much more lopsided towards the favorites. Russia managed to surprise Spain by parking the bus for most of the 120 minutes, after scoring an own goal and converting a penalty shot allowed by Gerard Pique's ridiculous hand-ball, and then pushing through to top eightby Igor Akinfeev's two penalty saves. They showed nothing in the offense against Uruguay either, so it's hard to imagine Russia putting a dent to Croatia's hard working defense. Croatia had to go through penalties as well, but Denmark was a worthy opponent and managed well in closing down Croatia's dangerous midfield weapons – a formidable task to any team. But this time Russia simply can't only sit back as Croatia will punish them from further away, unlike Spain. Croatia is very likely to man the box and Russian's slow defense will be in trouble.

In Accuscore simulations it's all Croatia and they progress with 72% probability.
England is the favorite to head to semifinals over Sweden. The three lions went to the penalties against Colombia after conceding a 90+ minute goal, cancelling Harry Kane's go ahead penalty goal. Against all odds they took the win after penalties and their curse has been broken. Maybe it's England's turn this year? Offensively England were not at their best and managed only one other shot on goal in all of 120 minutes. It might spell trouble against Sweden, who are possibly the best organised defensive team in the tournament. They play with such vigor and discipline it's admirable, but their offensive production is next to none – even if they manage to create a couple of chances. England has a more talented team offensively and defensively, but now it's the time to deliver against a top-notch defense. It will be a battle between English offensive efficiency and Swedish defensive tenacity.

In Accuscore simulations, it is the offense to prevail and England will head to semifinals with clear 77% probability.
Not a member yet? JOIN ACCUSCORE NOW to get the most out of the profitable FIFA World Cup 2018 picks and predictions!