Promotion hopefuls and big disappointments
The UK boasts one of the World's toughest football leagues, the Championship at least if asked from the British followers. Second tier to the fabled Premier League, it's a stepping stone for many players and clubs as well. Season is as tough as it gets, with 46 games played in 9 months – but there's more. Two top teams win straight promotion to the Premier League but the teams seeded 3 to 6 get to play a gruesome playoff-series to figure out the final promotion spot. For many, the Championship's playoff's and especially the final, is the true pinnacle of the footballing season.
Whilst Championship lacks the big-money signings and the glory that Premier League is known for, the intensity and the quality of play is surprisingly high in the second tier. Almost every season there are big surprises and massive disappointments – exactly what makes a league worth following. Last season's dark horse were the winners Norwich, predicted 11th by bookmakers (and 16th by us…) while the biggest favorites Stoke City fell to 12th. None of the promoted teams were predicted top-6 by the bookmakers nor Accuscore. Let's see if we can improve this time around!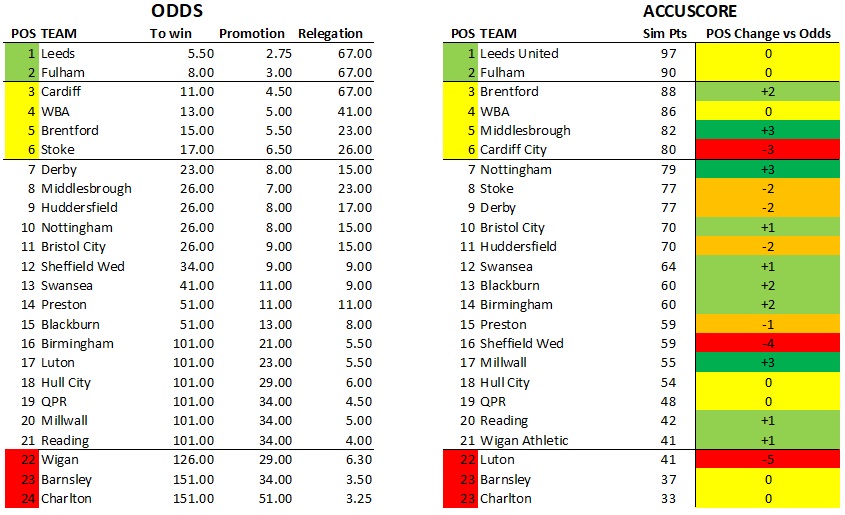 Accuscore's Championship Analysis
As we've previously pointed out, Championship is hard to predict and not even the bookmakers have solved the puzzle. There are a couple of interesting differences between the bookmakers' assessments and Accuscore's simulations that we'd like to point out. While it's difficult to pick one team to win it all, there are loads of outright options to choose from. We take a look at the most attractive odds for promotion candidates as well as one team that looks like a good pick to go down.
Attractive odds for Promotion
Brentford
Brentford have been almost there for many season, bubbling under but never quite the favorites. They were a disappointing 11th last season, but managed 3rd best record at home. Goes without saying that replicating their home form to away would already be enough, but they've also grown a tad stronger in all areas and more remarkably the young stars such as Neal Maupay are still around. Brentford are young and ambitious so look for them to make a push for promotion through playoffs if not straight. They're valued at 5.50 to win promotion and we do like that!
Nottingham
Another team that has left their fans ripping hair out of their head for more than once. Last season they were touted in top 4 but fell to 9th and another managerial victim was produced. Current manager, Sabri Lamouchi is a huge question mark, but the players at his disposal are better than the results last season indicated. They've lost a couple of players but brought in interesting names as well. Nottingham is a definite dark horse, but they might just fade away if Lamouchi doesn't get a flying start. It's more of a longshot, but Forest is placed only 10th by bookmakers while Accuscore's simulation push them to 7th. There's nice value in punting for promotion with odds of 8.00!
Middlesbrough
Getting a bit repetitive, but Middlesbrough crashing out of top-6 last season was a massive surprise to everyone. Tony Pulis did a decent job, but it just wasn't enough for promotion-hungry M'boro. Assistant Jonathan Woodgate has everything to lose, but the team looks competitive and the starting XI is arguably top-6 quality. Good mix of experience and raw talent, but not much depth. There could be more to come from the transfer market, but we like Middlesbrough in the playoffs, which is three spots higher than the bookmakers. After that, everything's possible and the odds of 7.00 for promotion is too good to pass by.
Bottom feeder club
Luton
All due respect to Luton Town, who fought their way back to the big stage after going practically bankrupt more than a decade ago. Scraping through League One is one thing, but Championship is a whole new ball game for too many of Luton's players. They have acquired a handful of experienced, quality players, such as Calum McManaman, Martin Cranie, Ryan Tunnicliffe and Jacob Butterfield, who just might be enough to pull first-time-manager Graeme Jones' squad out of the relegation battle. The Accuscore simulation engine is not that merciful though, and Luton drops five places compared to bookmakers' assessment. With these odds of 5.50, we'll go for the jugular!
For all the Championship picks and predictions JOIN ACCUSCORE NOW!
Membership includes access to all the Accuscore's analysis on the major soccer leagues, MLB, NFL, NBA, NHL and much more.