Written by AccuScore Staff
Follow @AccuScore on Twitter
2019 Fantasy Draft Tips - Value Pickups
Scroll to the bottom of the NFL Picks page to see AccuScore's premium NFL fantasy analysis
Accuscore has simulated every game of the NFL season and predicted player performances for not only key offensive players, but every defensive player as well for every game. When you are preparing your fantasy draft, we like to highlight some players that have predicted to be higher value than overall consensus shows.
Running Backs
Leonard Fournette
After the rookie season that resulted over 1000 rushing yards,the last year was a letdown for Leonard Fournette. Injuries and attitude problems of Fournette derailed the team that reached the AFC Championship game in 2017. Now it is time to bounce back. Nick Foles has arrived to Jacksonville as a new QB, but a lot of the team offense success is on the shoulders of Fournette.
Accuscore predicts that Fournette will be top 5 running back in rushing yards and will add more receiving yards as well based on the new offensive coordinator's Joe DeFilippo's system. The health of the offensive line is key for many running backs and right now it looks like the Jaguars will have one of the offensive line cornerstones, Cam Robinson ready for the season opening.
Adrian Peterson
Ageless Washington Redskins running back hit 1000 yards mark 8th time of his career during the last season. There is no too many signs that show 34 years old veteran slow down this season either. A lot of Peterson's production is depending on second year back Derrius Guice that will have his share of the carries especially if his knee is fully recovered from an ACL tear.
Adrian Peterson is a good choice for second or especially third running back of your fantasy team. Even though he may not be the 8th best rusher of the league like a year ago, there is still value left in Petereson's tank especially when Washington's passing game may not be the best of the league.
Jordan Howard
A bit similar way as Peterson will try to hold his number one rank position in Washington, Jordan Howard has rookie Miles Sanders lurking behind him. After three seasons that produced 3370 rushing yards in Chicago, Howard was traded to the Eagles. Philadelphia has a tradition of giving carries to many running backs, but Howard can change this.
Based on Accuscore's predictions Howard will change the downward trend of the amount of his rushing yards. He starts the final year of his rookie season and has an opportunity to show that he can play more than just a few seasons in the NFL.
AccuScore's NFL Expert Picks (Totals, Spreads, Side Value, Moneyline) have returned profits in each of the last 5 years, with a total net profit of +12,252. In fact, AccuScore's expert NFL Picks have only failed to return a profit in one of the past 10 years, with a net profit of +24,707 over the last decade.
Join AccuScore today!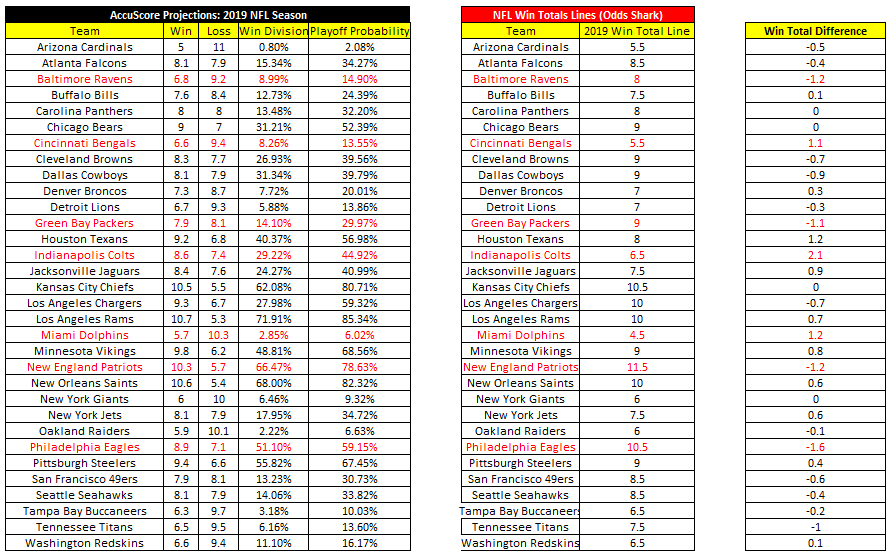 Not a Member? Join now and get full access to AccuScore's award winning NFL Picks against the spread and totals for EVERY game, along with every sport AccuScore covers, including College Football, NBA, NHL, College Basketball, Premier League, and more than 10 other professional sports leagues. Use coupon code NFLbegins for 20% off All-Access All-Sports Premium membership (annual or monthly). This is our best preseason offer & won't last long... Join AccuScore today!
Wide Receivers
Adam Thielen
Minnesota was a bit disappointment during the last season. After 13-3 season in 2017 that ended in the NFL Championship game, they missed the playoffs with only 8 wins. The big money QB acquisition Kirk Cousins didn't help then as expected. Thielen was 4th in the league in receptions and 8th in receiving yards in 2018.
Adam Thielen is predicted to be one of the top WR's. As the Vikings' receiving is basically shared with Thielen and Stefon Diggs, even a small improvement in Cousins performance will result in better numbers for Thielen as well. He is a good choice for number one WR for any fantasy team. In order to minimize risk for the another Viking subpar season, drafting both Diggs and Thielen is not advised.
Julian Edelman
Tom Brady is not showing any signs of slowing down. The last season ended with 6th Super Bowl. Julian Edelman has been one of his key targets during the last three of those victories. Every year when Edelman has been able to start all 16 games during the regular season, he has received over 1000 yards.
Accuscore predicts that Edelman will be number one receiver for New England this season as well. When Rob Gronkowski gone, a lot of shorter passing game success is on Edelman's shoulders. Josh Gordon and Phillip Dorset as well as Demaryius Thomas will have their receptions as well, but Edelman is a solid pick for number two receiver for any team.
Tyler Lockett
Seattle Seahawks retooled their roster quite a bit after last season. Another of their top receivers Doug Baldwin retired, but Tyler Lockett is chasing the first 1000+ season. Last year stats were 35 yards shy of it. This time he clearly is number one receiver for Russell Wilson and should be able to crush into the 1000 receiving yards club.
Based on season simulations, Lockett is a solid pick for number two receiver for your fantasy team. The Seahawks has won at least 9 games in every season since 2011 and their coach Pete Carroll aims to add one more season with at least 9 wins and postseason berth (36 % probability) for the Seahawks.
Quarterback
Jameis Winston
If you have concentrated on running backs and wide receivers during the first rounds of draft and top quarterbacks like eshaun Watson and Patrick Mahomes are gone, there is still hope left. A bit similar as Leonard Fournette in Jacksonville, another star player in Florida didn't have a stellar season in Tampa Bay. Jameis Winston started only 11 games and didn't reach 3000 passing yards. With new coach and offensive coordinator, time to bounce back to the level where the number one draft pick is expected to play.
Accuscore predicts that Winston will be top 10 QB when calculating fantasy points. He has his reliable number one receiver Mike Evans catching balls and Winston is expected to make some plays with his legs, he could be one of the sleepers of the fantasy draft. However, Tampa Bay is predicted to be 6 win team with very limited chances to the playoffs, this is the season for Winston to show that he is worth of solid starting quarterback in the NFL.