Pitching showdown expected in the World Series
It all comes down to one best of seven series, between the season-long favorites Houston Astros and the dark horses Washington Nationals. While it was more than expected that Astros are to be found on top of the pile after the season, Nationals are much bigger surprise – many deemed them out of the playoffs before the season.
Astros have impressed all around during the regular season and in the playoffs. Their batting has been spectacular, as expected, but also their pitching squad managed to step up when needed – especially to stop New York Yankees in the AL finals. Astros made a convincing run to the World Series after a bit of a slow start to the post season and they are not favored for a reason.
The Nationals were out of contests already in the end of May, with only 19 wins in 50 games. Losing Bryce Harper seemed too big of a loss for them to recover so fast. But maybe it was a silver lining, losing their talisman player, which then led everyone else to take a step up. The pitching crew has managed to grow only better during the season and in the playoffs they've been impeccable in stopping Los Angeles Dodgers and then altogether smothering St. Louis Cardinals. They're well rested as well, which will spell some hard times for Astros at bats. Nationals are a strong hitting team, apparently, as well as they are leading the postseason in runs and batting average – who would've thought?
After running several different scenarios with several different pitching matchups, Accuscore's simulation engine – while overheating – spilled out some numbers for us to look at. The most probable outcome of the World Series 2019: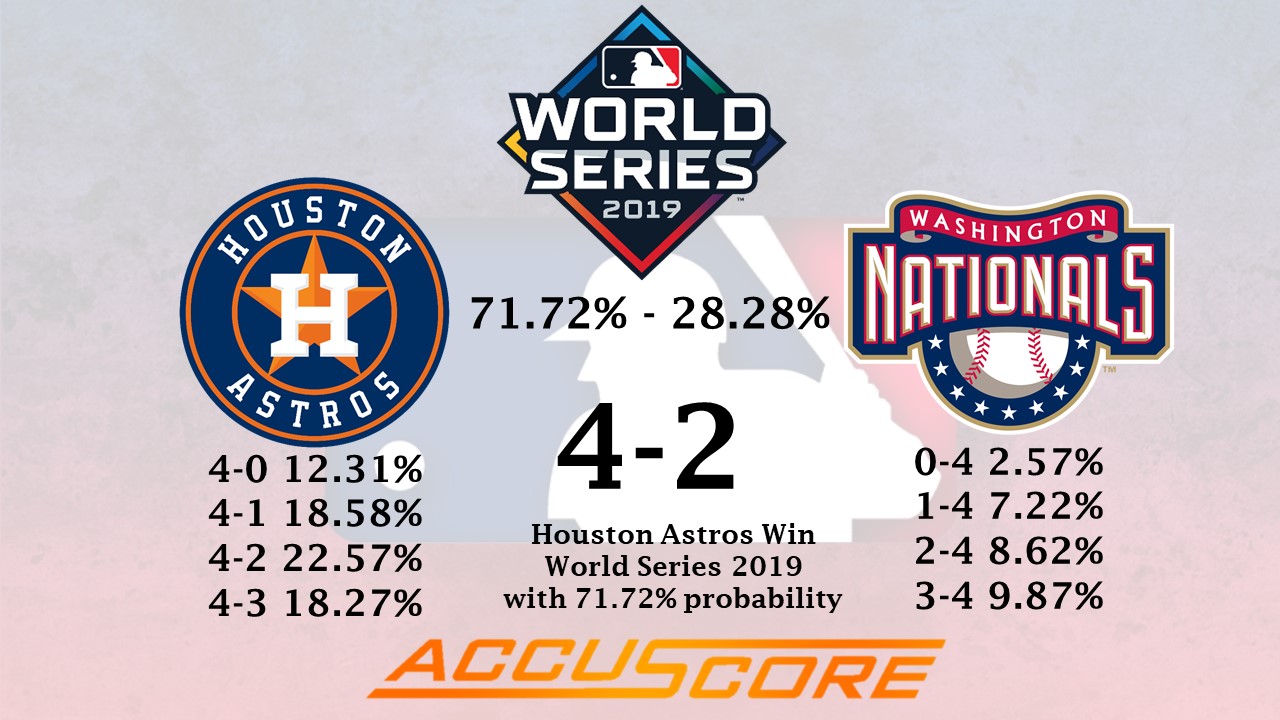 Accuscore's analysis
Houston Astros has been favored in the simulations since the beginning and they've not shown any reasons for doubt. When in trouble, they've bounced back, when they need a run from the end of the lineup, they get it, when they need a pitcher to step up, they deliver. It's hard to bet against a team that looks like an all-around winner. The simulations liked Nationals as well, they were up to challenge Dodgers and were predicted to beat the Cardinals, but the Astros seem too hot to handle.
In Accuscore's simulations, Astros win the World Series 2019 with 71.7% probability, while it most likely finishes off in game six at Houston. There's ~22% probability for that happening.
Astros being favored derives mostly from their excellent trio of starting pitchers Gerrit Cole, Justin Verlander and Zack Greinke. The trio manages to beat Stephen Strasburg, Anibal Sanchez and Patrick Corbin in the duel, while Max Scherzer is at even level with the Astros aces. Small edge for Astros, but with the home advantage it is likely to be enough
The oddsmakers value Astros at 68% so there's a slight couple of percent value to jump in the 'stros bandwagon!