The first round of the Premier League is just around the corner and the first game is played already on Friday. After a somewhat predictable season last time around, with Manchester City clear winners, this time around it might get a bit interesting. There's been a plethora of changes for the top teams and also quite a bit of stirring in the lower cast as well.
Chelsea decided to get rid of title-winning manager Antonio Conte and replaced him with fellow Italian Maurizio Sarri, who had an impressive spell at the helm of Napoli. Arsenal also finally decided to end the Wenger-era and newly appointed Unai Emery has not rested on his laurels, but made some instant changes in the squad. Promoted Wolves have raided the Portuguese national teams boasting an extremely talented squad and West Ham seems rejuvenated under the command of Mauricio Pellegrini.
So there's plenty of excitement with something new and something old, but as usual Accuscore's simulation engine has played out the whole season beforehand – and with it comes the most probable scenario of how things will end in May 2019.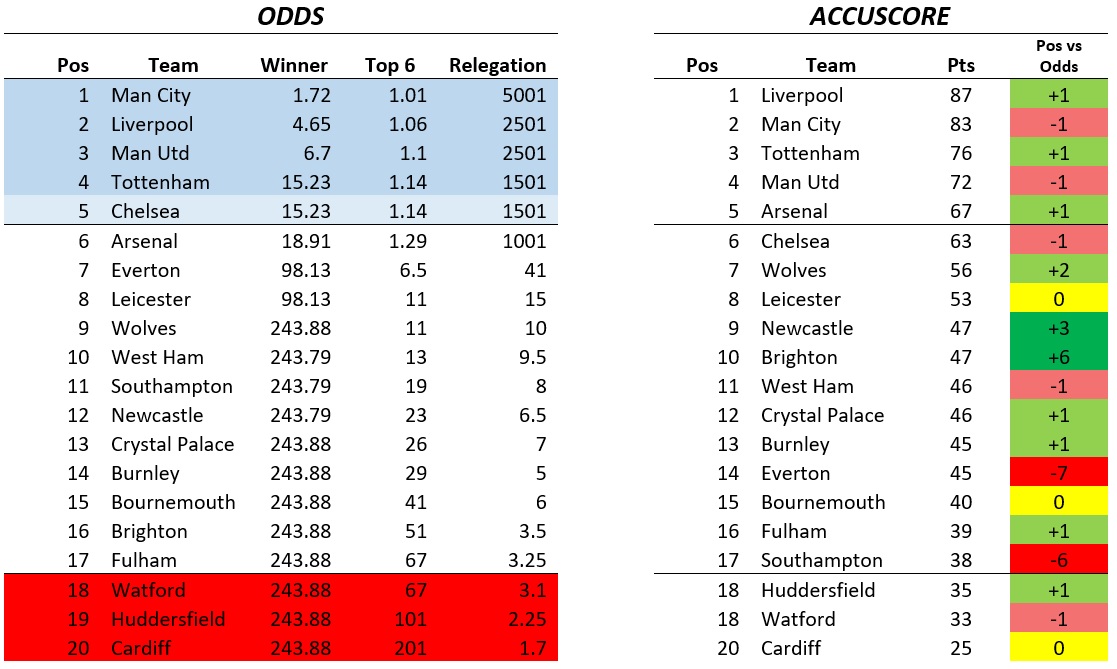 Analysis and picks
The top six in the Premier League seems set once again this year – the only debate is the actual order of the teams. Accuscore simulations don't disagree too much with the odds, but there are a couple of small changes.
Manchester City is the favorite to win the title according to the odds, but Liverpool has shown it can put up a proper challenge. As Manchester City won it last year, Pep Guardiola and his troops might be concentrating more on Champions League which might leave the door ajar for Liverpool. In Accuscore simulations Liverpool is the more likely winner, if only by a couple of points.
With the odds for Liverpool win as high as 4.65, it will be worth picking Liverpool to win their first title since 1990
While Manchester United is ranked third by the odds, in simulations Tottenham Hotspur is better. Albeit a bit behind of the top duo, the Spurs will once again put up a challenge with unchanged team from last season – remarkably they made no transfers in during the summer. Pochettino's trust in his squad is unflinching and the team does look competitive. Whether they can challenge the top teams remains to be seen, but if there's no injury crisis it's highly likely they'll be right up there to fight for the title.
Spurs receive ridiculously high odds of around 15.00 for winning the title and it's easily worth the punt!
Even if the top-6 is exactly the same in Accuscore's simulations as it is according to the odds, there are a couple of teams that might surprise and have a chance to cause an upset to one of the big boys. It's not unheard of that a big club would underachieve, which would allow the Leicesters or Burnleys to capture a higher position than anticipated. In fact, the newly promoted Wolves are an intriguing team with a highly skilled squad fitting perfectly for their manager Nuno Espirito Santo. After losing only seven games out of 46 last season in the Championship and winning it by nine point difference, Wolves are valued 9th according to odds – quite unheard of for newly promoted team. In Accuscore simulations they're placed even higher and might put up a challenge for the top-6. With no European games distracting, well gelled together squad, too good for Championship level and excellent additions during the summer make Wolves a perfect dark horse for the season.
Odds for Wolves to reach top-6 vary, but if we get over 10.00 for it, it's a keeper. The odds for Wolves to reach top-10 at 2.10 is a no-brainer as well
The biggest negative surprises in Accuscore simulations are Everton and Southampton. While Everton has now made a couple of more acquisitions, namely Andre Gomes, Yerry Mina from Barcelona and Bernard from Ukranian side Shaktar Donetsk, they might have tremendous problems gelling together early on. On the paper Everton should be performing better, but the statistics tell a different story. It will also remain to be seen how Marco Silva will set up his team after all the movement during the summer. Their preparation to the season hasn't gone down all that well as they've lost five of their last friendlies, although not too much weight should be given to pre-season games. Everton is expected to deliver this season and Accuscore expects them to fail heavily.
Everton to finish in the bottom half of the Premier League receives odd of 3.25 and even with its risks it's worth a try
For one reason or another, last season's 17th Southampton are ranked 11th according to the odds. Accuscore simulations puts them to their rightful place at 17th and right in the middle of the relegation battle. As the trio most likely to get relegated is exactly the same in both simulations and odds, there's not much value in betting Cardiff or Huddersfield to go down, while Watford's odds of 3.1 are just barely playable. Southampton, on the other hand, might just be the team slipping up this season and finishing in the bottom three. Mark Hughes has not seen major success in a while and his system seems too stagnant for Premier League – and his squad is not strong enough either. While many of the other bottom half teams have gotten better, Southampton seems to be going the Stoke way.
Southampton to get relegated receives nice odds of around 8.00 and we'd jump on that wagon
Summary of value picks
To win: Liverpool 4.65 and Tottenham 15.00
Wolverhampton Wanderers: Top-6 10.00 & Top-10 2.10
Everton: To finish bottom half 3.25
To get relegated: Southampton 8.00 and Watford 3.10
For all the Premier League picks and predictions JOIN ACCUSCORE NOW!
Membership includes access to all the Accuscore's analysis on the major soccer leagues, MLB, NFL, NBA, NHL and much more!