LIGA MX Apertura 2018
It feels like only yesterday we saw France lift the trophy after the World Cup, but already the Mexican LIGA MX is back in business. No rest for the wicked and Accuscore has simulated the entire opening Apertura half of the season. As usual there were plenty of changes in playing and coaching personnel in Liga MX, which makes It so much more interesting to follow – and to predict. Surprises are always inevitable, which usually bodes well with Accuscore's predictions. Once again there are some differences in the power rankings of the teams compared to the title winning odds.
Last year the Apertura season belonged to Monterrey and Tigres, who took the first two spots in the regular season and then went on to finish the playoffs in the final, which Tigres took by 3-2 aggregate. In Clausura half, the regular season competition was fierce, with Toluca taking the 1st seed by clear difference but then the rest of the seven-team playoff-pack squeezed within 5 points. The king of Clausura playoffs was, however, Santos Laguna who rose to the occasion beating both top two seeded teams, Club America and then Toluca in the final.
There might still be some acquisitions in the Liga MX, but Accuscore's simulations have been run with the current lineups and here's how the Apertura table looks like come December and the playoffs: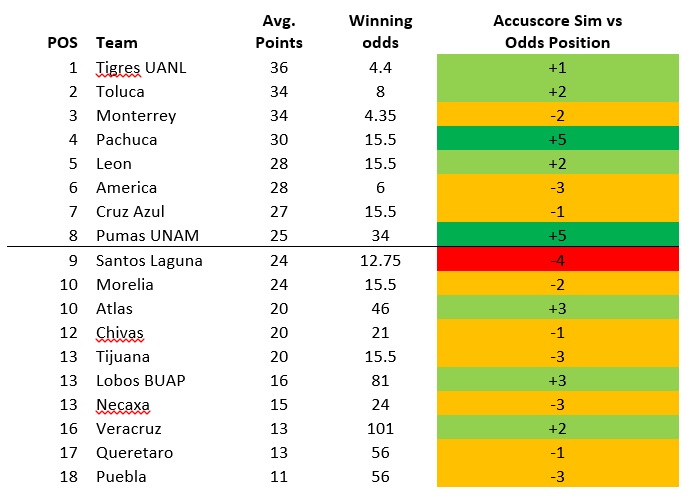 Monterrey and Tigres are again the biggest odds favorites to win the Apertura, with Club America and Toluca right behind the duo. In Accuscore simulations it's all very even on top, with Tigres, Toluca and Monterrey manning the top three. Pachucha is the biggest riser in the standings, being predicted 5 places higher by the simulations than the oddsmakers.
Usually big favorites in the spring season, Santos Laguna didn't make it to the playoffs in last year's apretura and this is bound to happen again, according to simulations. Pumas on the other hand are narrowly included in the top-8, leaving Morelia out by the skin of their teeth.
If you're looking for dark horse, pick Pachuca as a regular season winner. For bigger favorites, the best value comes from Toluca and Tigres, while Monterrey and Club America should be avoided. Pumas would then be the truly brave man's choice, as their win would be a massive surprise – but the odds are extremely attractive.
For all the LIGA MX picks and predictions JOIN ACCUSCORE NOW!
Membership includes access to all the Accuscore's analysis on the major soccer leagues, MLB, NFL, NBA, NHL and much more.