In Scottish football there's still only one king, the same for the past seven seasons. Glasgow Celtic rules the north and there hasn't been a viable challenger, despite their arch-rivals Rangers back in the top tier.
The top duo is once again likely to include the Glasgow duo, with slim hopes for European qualification given to Aberdeen and Edinburgh's top team at the moment, Hibernians. The rest are such long shots that it would take a serious collapse from the Celtics and Rangers to even consider those odds.
Not much has changes since last season and Accuscore's simulations wholly agree: it's Celtics up front by a country mile to Rangers, who then are pretty much a light year ahead of the rest of the pack who might actually mix it up a little bit.
This is how the season is most likely to play out according to Accuscore's simulations: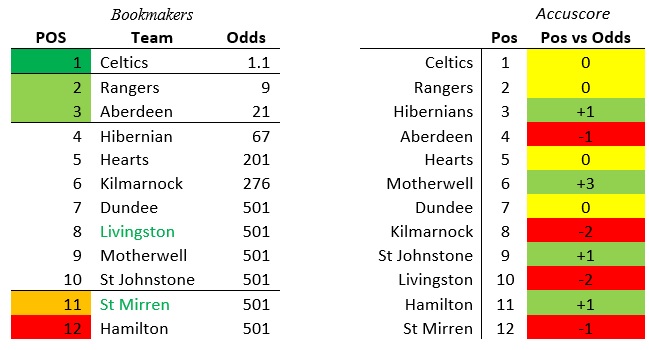 As it shows, there's not too many interesting surprises expected in the Premiership, but at least some smaller ones we can make a profit with. In the simulations, Motherwell's second coming sees the light of the day in a three place rise and Aberdeen is much more evenly matched with Hibernians than the odds would indicate. Newly promoted Livingston is likely to narrowly escape the return to Scottish Championship, but St. Mirren is doomed according to simulations.
Like the winning odds indicate the bottom of the table is all even, but during the season there's likely to be nice openings for profitable bets. Be sure to follow the Scottish Premiership at Accuscore.com, to get the predictions and best picks for each game!