The pre-season predictions for the NHL are always tricky, as we can see from the Stanley Cup winner odds from before the season according to Westgate Las Vegas Superbook by ESPN. There were three teams in top-9 not even making their way to the playoffs, including no.2 Edmonton Oilers.
You can revisit Accuscore's pre-season forecast here: Western Conference and Eastern Conference
Reminder: For every NHL, KHL and Finnish Liiga match, AccuScore has expert analysis and picks for members.
Accuscore pre-season simulations determined 10 out of 16 playoffs teams correct. In the West, it was the disastrous seasons for Dallas Stars, Chicago Blackhawks, St. Louis Blues and Edmonton Oilers that took their toll, while newcomers Vegas Golden Knights was a positive surprise for – well, everyone. Other teams that made it to post-season outside of the predictions were up and coming Colorado Avalanche, Minnesota Wild and Los Angeles Kings. It was a surprising season in the west for the sportsbooks as well, with three teams out of top-5 out of the playoffs.
The east was more predictable and Accuscore simulations projected 6/8 playoff-teams correct in pre-season predictions. Only New York Rangers and Montreal Canadiens succumbed to below par seasons, while Boston exceeded the expectations by a country mile and New Jersey Devils managed a remarkable upset in a tough division. The Bruins and the Devils were both undervalued by both Accuscore simulations and oddsmakers, being considered outside of the top eight by both.
Accuscore's pre-season total predictions made a small but steady profit once again. The record of win totals added up to 16-15 and the point totals to 17-13, with Vancouver posting an exact 73 point total match to pre-season line, making the bet void.
The Expert Analyst picks were highly successful with a record of 7-4 as follows: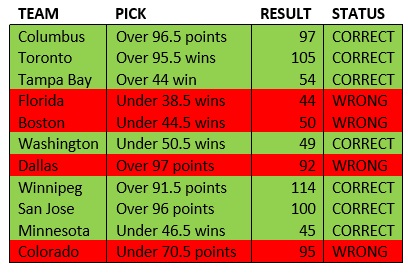 As we can see, it was the biggest upsets that caused most of the wrong picks, as Boston and Colorado were the overachievers compared to the odds while Dallas fell from grace by quite a clear margin. Florida was misjudged by the simulations from the beginning and they managed to make a push for playoffs – only to be left out by one point difference.

The season continues with the NHL Stanley Cup Playoffs and Accuscore is on it already: here's Accuscore's forecast for the oncoming NHL Stanley Cup Playoffs 2017/2018!



Not a member? This is the best time to join! Sign up now and you'll get ALL of AccuScore's 2018 NHL regular season picks and the playoffs predictions... and much more! JOIN ACCUSCORE TODAY!*

*Use code NHL25 for 25% off an ALL SPORTS membership: Limited time Offer!
*First time members get a free 7-day trial of AccuScore's full site when you register for a monthly membership.