Accuscore's NHL Stanley Cup Playoffs – Conference Finals
The NHL Stanley Cup Playoffs have reached their penultimate pinnacle with the Conference Finals. Two of the best teams from each division remain and while the Eastern Conference didn't really provide any surprises, the West has been shocking to say the least. Except if you follow Accuscore – we were 4/4 in pre-conference semi-final predictions! The forecast also showed the best value for Stanley Cup odds for the two teams still in the games – Tampa Bay Lightning and Winnipeg Jets.
Thrilling but predictable playoffs – so far
The biggest favorite in the west, last year's Stanly Cup finals runner up Nashville Predators suffered a bitter defeat in the hands of up-and-coming Winnipeg Jets in a gruesome seven game series. The Cinderella story of the year – and probably of all time – Vegas Golden Knights overcame yet another obstacle from California, as the Sharks sank in six games and the Knights' debut season keeps on going strong.
In the east there was really not that much contest, as the biggest Cup favorites Tampa Bay Lightning ousted Boston Bruins in a short but feisty five game series. Despite taking the first win, the Bruins were a step behind in most of the games. Elsewhere, Washington Capitals finally bested their rivals – and unbeatable obstacle for many years - double-champions Pittsburgh Penguins who seemed to run out of gas in the hands of relentless Capitals team, who took six games to overcome the reigning champions.
Jets & Lightning still the favorites
The conference finals start tonight with the Eastern pair of Lightning vs Capitals first on fire, followed tomorrow by the Western Jets vs Knights. Here's how Accuscore simulations predict the NHL Stanley Cup Playoffs Conference Finals and onwards: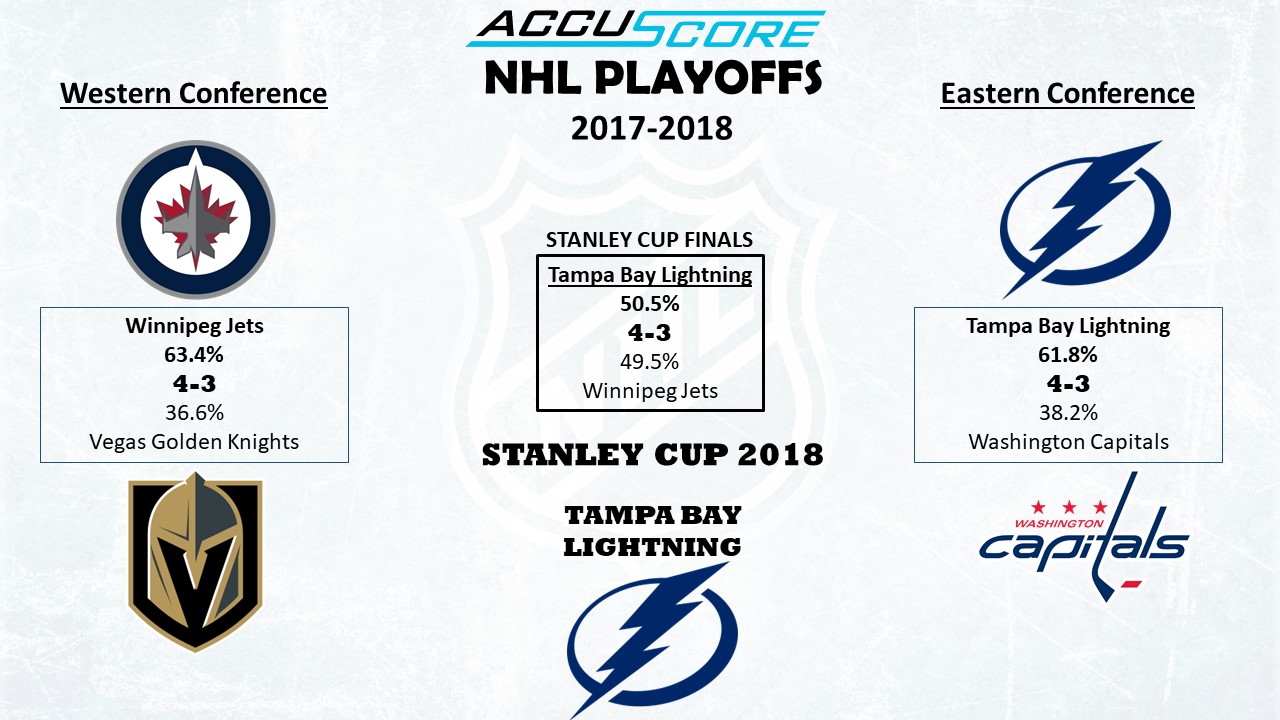 Accuscore analysis
Tampa Bay Lightning is still the biggest favorite to hoist the cup at the end of the season, but Winnipeg Jets have upped their chances after beating West's favorite Predators in the conference semi-finals. If they go on and beat Vegas – as the simulations indicate, the finals are likely to be very close to a coin toss and Jets have an excellent chance because of their home advantage. Tampa Bay is a lot stronger at home than away, so it's unlikely that Jets have a lot to take home from their trip to Florida. But there's still high-flying Vegas to beat before and it'll also be a tough matchup going into the game seven. Same goes for Tampa against Washington and the hungry Caps pose a definite threat to Tampa's Stanley Cup run.
All in all, it will be an exciting and close Conference Final in both sides – but the favorites are strong enough to go through according to Accuscore's simulations.
For more analysis and predictions on the NHL Stanley Cup Playoffs – and much more – visit Accuscore.com! Not a member yet? Subscribe now using code "NHL25" for 25% discount – JOIN NOW!