Liiga as close as ever
The Finnish elite ice hockey league, conveniently named Liiga, is gearing up for a new season. The first round is played on Friday the 14th of September and the regular season lasts for 60 games per team, finishing in mid-March. The same 15 teams battle for the championship as last season, as the Liiga remains closed for promotion or relegation.
For the past five seasons, the Liiga title has been decided between two dominant teams. While Tappara's roster looked unbeatable last season, as they were looking for their third title in the row, double winners from 2013 to 2015 Kärpät managed to overcome the star-studded team in the finals. Kärpät will now enter the new season as the biggest favorites, ahead of their modern day rivals Tappara. The biggest challenge is brought on by HIFK, TPS and JYP – each team firmly predicted to make the top-6 with more than 90% probability according to the odds.
Subscribe to Accuscore NOW to receive all the predictions, picks, game previews and forecasts for the upcoming Liiga Season 2018/2019 and much more
By using code "NHL25" You'll receive a discount of 25% of the membership fee!
With Accuscore simulation engine, it's possible to run the whole schedule of the regular season and determine the final standings. While the top teams are rather clear in Accuscore's simulations as well, there are some changes in the order and we are likely to see a couple of surprises as well.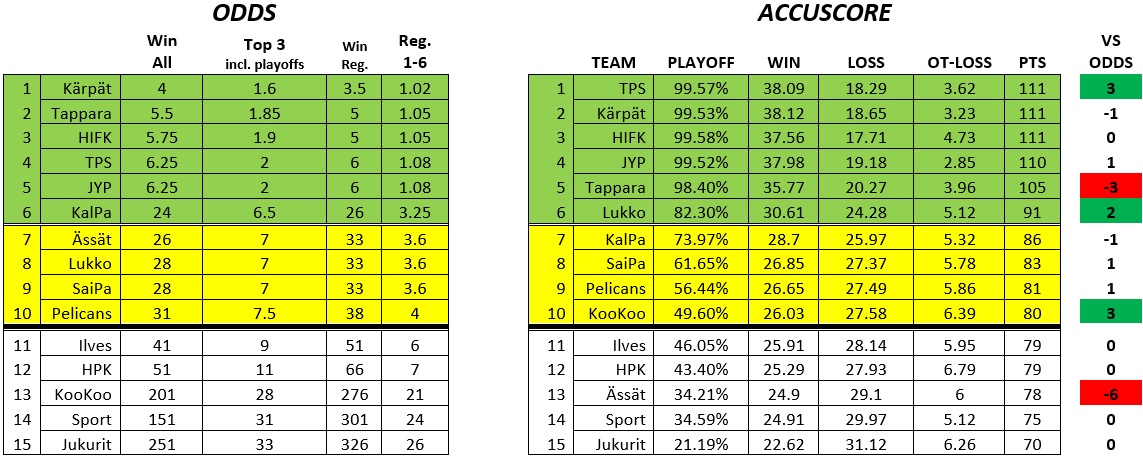 Picks & Predictions
As we can see, the top of the leagues seems extremely even and the top teams gather the exact same points after the regular season. Marginal differences of <0.5 points in top three and five teams within six points makes it difficult to find value in the odds, as the regular season title will likely be decided between these five teams, exactly like the odds indicate.
The biggest riser of the top teams in TPS, climbing on top of Accuscore simulations. They've lost a couple of seasoned veterans Tomi Kallio, Eric Perrin and Henrik Tallinder, but the additions such as Patrick Bjorkstrand and Topi Jaakola make up for the losses and their young head coach is now a year more experienced. Oula Palve and Ilari Filppula provide arguably the best one-two-punch as top-line centermen in Liiga while Zach Budish with Simon Suoranta provide scoring. Lot can be expected from last season's 15 goal scorer Teemu Väyrynen. Scoring is needed, as TPS lost five of their top seven scorers during the summer. Also, goalkeeping leaves some question marks, while superstar forward Lauri Korpikoski will be out for a while with health issues. That being said, TPS has quality all around the ice with experience and young power providing good depth to last for the long season. With the odds of 6.00 TPS is good value bet to win the regular season.
Last season's finalist and true powerhouse for a couple of seasons, Tappara, is rated 2nd according to the odds. While the assessment seems fair looking at the high-quality roster, it's likely that the team is at its best only closing in to the playoffs. In Accuscore's simulations, Tappara falls fifth, which can be considered surprising. The team is still golden, with iconic defender Tuukka Mäntylä returning along with forwards Jarkko Malinen and Antti Erkinjuntti. Heavy on defense last season, Tappara lost Niko Mikkola, Mikko Lehtonen and arguably the best goalkeeper in the league, Dominic Hrachovina but the D is still top-notch. Captain and leader Jukka Peltola left to KHL as well, and his multipurpose skillset will be missed. Look for Tappara to challenge for the title again come playoff-time, but during the regular season they just might slip up too many times to win it.
Lukko from a small west-coast town of Rauma has once again splashed around in the transfer market and acquired a handful of interesting names to bolster their roster. Jakub Krejcik, Brandon DeFazio and Justin Danforth are all expected to make an impact as Lukko looks to return to top six after two-year absence. Acclaimed head coach Pekka Virta is heading for his second season with the team and expectations are high, once again. Lukko is one of the biggest spenders in the league, but the results haven't quite matched the budget. They've been close though and this season looks promising. Recurring injuries to veterans Ville Vahalahti and Lauri Tukonen hinder their chances somewhat early in the regular season, but youngsters like Linus Nyman and Aaro Vidgren are ready to jump at the change. The team is good enough to make it to top six, if Pekka Virta's puck controlling style sticks. There's good value in picking Lukko to top six with odds of 3.60!
Ässät from Pori, right next door to above mentioned Rauma, is heading the other direction. With some off-ice problems at the front office, the team is not as strong as it was last season and they didn't go too far that time either. Most of their production is gone, as Simon Suoranta, Antoine Laganiere, Philip McRae and point-scoring defenseman Maksim Matushkin left during the summer. Sakari Salminen, Tommi Taimi and Jarno Kärki have even bigger responsibility this year and a lot of stepping up is expected from youngsters like Otto Kivenmäki and first round draft pick Jesperi Kotkaniemi. Defense and goaltending seems suspect as well and in Accuscore simulations Ässät falls outside the playoffs positions.
The battle for the playoffs is as close as it is on top of the league and there are plenty of teams within a couple of wins by the line. According to odds, KooKoo from Kouvola is highly unlikely to make the playoffs, but in Accuscore simulations they do just that – if only by the skin of their teeth. Only within a single regulation win above the chasing Ilves, HPK and Ässät, KooKoo takes the playoff-spot on their fourth season in the top level, after placing 11th, 13th and 14th in the past three seasons. While big names Jake Newton, Patrick Bjorkstrand and Michael Keränen are gone, the team still boasts a double threat of Swedish top-line scorers in Malte Strömwall and newly acquired Erik Karlsson (of course not THAT guy…). With solid pieces of quality players down the line as well, their defense might be a bit light to fight with the top teams but look for KooKoo to cause some serious trouble for the other playoff hopefuls. The tools are there for the head coach Tuomas Tuokkola to make a historical playoff-run, but it won't be easy. As the bottom of the table is as evenly matched as it's ever been, look for KooKoo to make playoffs if the odds jump clearly over 2.00.
For more great analysis and advice on various sports, visit Accuscore.com!
To access all the predictions and picks, start a FREE 7-day TRIAL
By using code "NHL25" when subscribing, You'll receive a 25% discount of all memberships