Favorites still favorites, despite different opponents
The KHL Conference Semi-Finals offered some great hockey and two underdogs to progress through. In Accuscore predictions CSKA were to beat Lokomotiv and Omsk narrowly edge Kazan. It was close, but Loko and Kazan prevailed against the odds.

All Accuscore's KHL picks and predictions can be found on our KHL-page!

Regular season winners, CSKA were ousted by relentless Lokomotiv team in six games. Lokomotiv managed to steal a victory from Moscow in their second outing, and even with CSKA pulling one back right away in Yaroslavl, Lokomotiv then went on to win three in a row - including another W in Moscow. Boasting an astonishing defensive record against CSKA - allowing only one goal in each of the last three games - Loko will now face-off against the biggest favorites of them all, star-studded SKA St. Petersburg.

SKA had no problem paving their way to the conference-final by demolishing Dynamo Moscow in five game, albeit Dynamo did put their faith in their rock-solid defense in effort to stop the SKA's offensive juggernaut - to no avail.

In the east, Magnitogorsk did what was needed once again by beating their Kazakh counterparts Barys Astana in straight sets. Two of four games were decided in the overtime, but there was never really any question which team would progress. A lengthy period of rest then awaited Magnitogorsk, as the last game was played on 15th and the next series begins only on March 24th.

It took a remarkably more taxing effort by Kazan to get through Avangard Omsk. It was as expected a defensive battle for Kazan, who managed to steal the overtime win in Game 1 at Omsk and went on to take another scalp on the road right after. Even if Omsk did scrape a win in Kazan, their tank was empty and the athletic Kazan then took the spoils in six games. Kazan is definitely a force to be reckoned with as they proved once again. They might not have the most flashiest players, but man they can battle!

In Accuscore simulations for the Conference-finals, the favorites are still the favorites to progress. Given the seeming ease SKA and Magnitogorsk pummeled their previous opponents, it's no surprise the percentages heavily favor the favorites. But in sports everything's possible!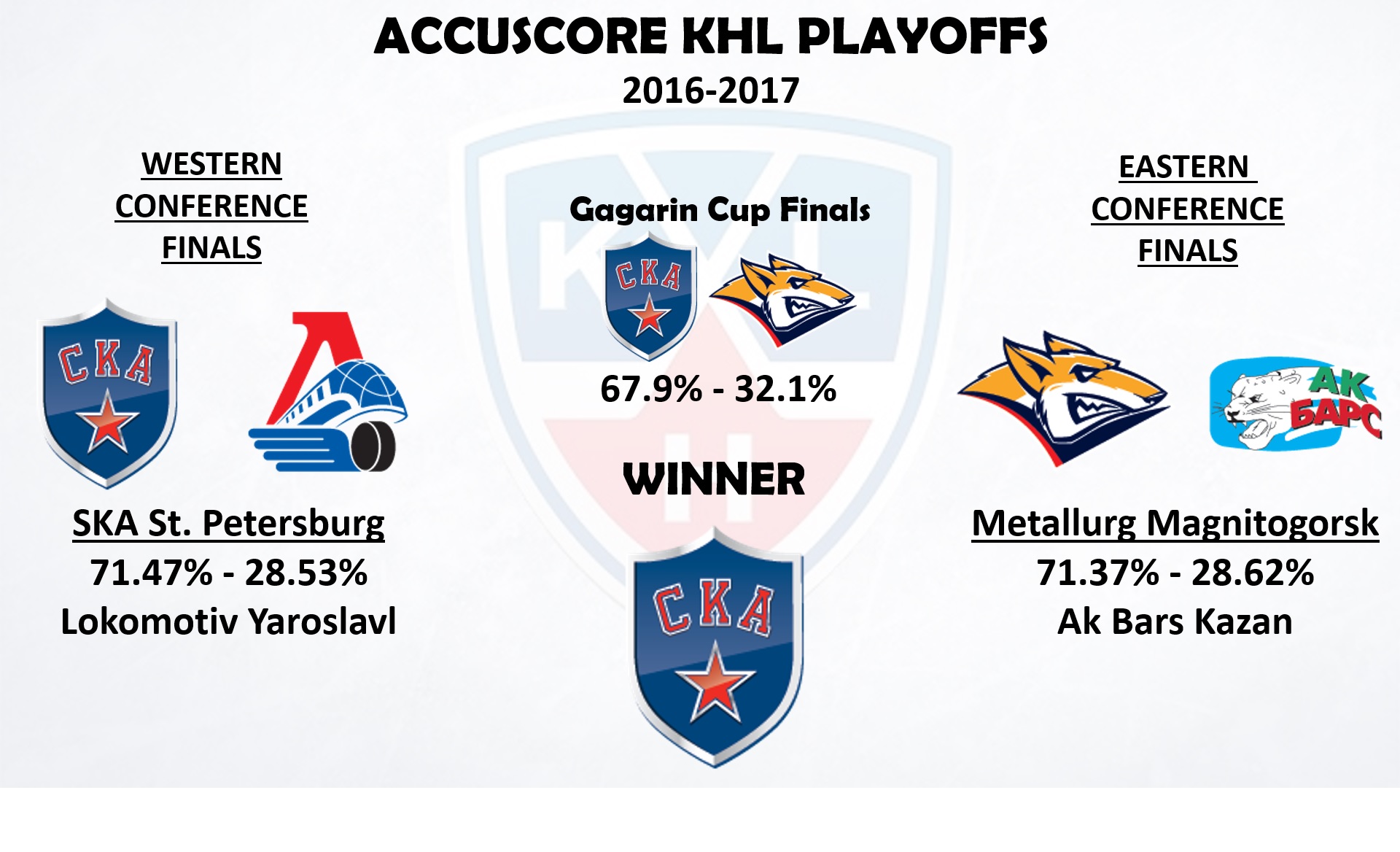 SKA St. Petersburg - Lokomotiv Yaroslavl
St. Petersburgh will head to the Gagarin Cup finals with 71.47% probability. The most likely series result is 4-1. (22.34%)

Metallurg Magnitogorsk - Ak Bars Kazanl
Magnitogorsk will head to the Gagarin Cup finals with 71.37% probability. The most likely series result is 4-1. (21.82%)