Winter Olympics Ice Hockey Semifinals 2018
And then there were four. Only the top-4 teams remain in Winter Olympics Ice Hockey tournament of 2018. In the quarterfinal stage we witnessed a major upset as Germany ousted one of the biggest favorites Sweden in overtime after a thrilling 3-3 regulation. All but one quarterfinal game was as close as it gets, with Canada beating Finland 1-0 and Czech Republic overcoming USA after penalties 3-2. Only blowout was – as expected – the Russian Olympic Athletes pounding Norway 6-1.
Accuscore's simulations in quarterfinal stages were 3 to 4 once again, as no one gave Germany any chance against the Swedes. Maybe the quote from Gary Lineker can be applied to ice hockey as well. In betting predictions Accuscore's simulations are still winning with huge profit, counting all the 26 games played. Side value predictions are 18-8 and a profit of +175 with even 100 stake on each pick. You can find the whole archive of Olympic Ice Hockey tournament HERE (IIHF_ARCHIVE.xls)
Join Accuscore now for all the picks and predictions for the rest of the Olympic Ice Hockey tournament – and much more! New registrations receive a FREE 7-day TRIAL and 25% off the subscription by using code "NHL25".
The 2018 Winter Olympics Ice Hockey semifinal games continue tomorrow, 23 February 2018 and feature such classics as Russia – Czech Republic and Canada – Germany. As usual, Accuscore's simulation engine has predicted those games in advance and here's how it looks like: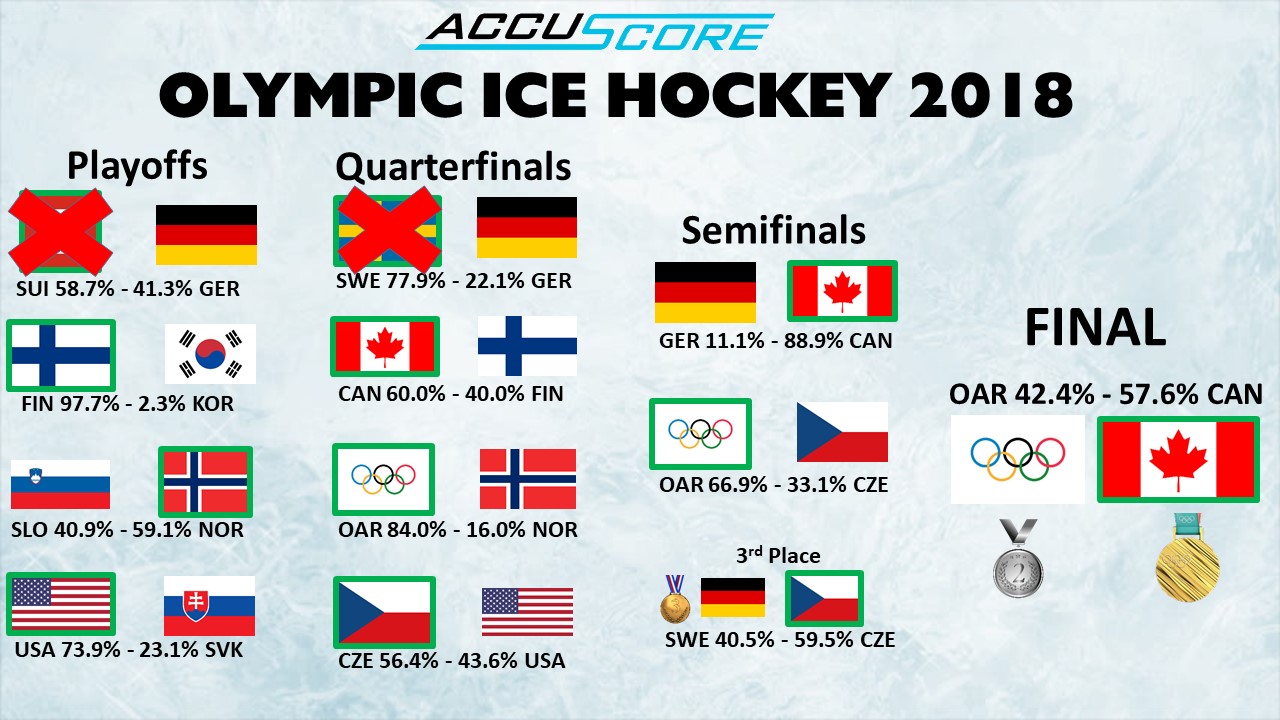 Expert Analysis
Safe to say the biggest surprise in the Olympic ice hockey tournament so far has been Germany reaching the semifinals. They have shown some true grit overcoming both Switzerland and Sweden in overtime, in addition to beating Norway in the shootout. However, it is only logical the simulations still have no faith in the German team. They've not been particularly efficient on ice and statistically they are less likely to succeed as the tournament goes on. For example, their best scorer Patrick Hager has two goals and two assists, but is -4 and their goalkeeper Danny aus den Birken is only 10th in the tournament in save percentage. Its very likely their fantastic run will end in semifinals and Canada will take the place in the final.
Canada proved they are competitive by finishing off the feisty Finns in a chess-match of a game 1-0. Finland played solid defensively but Canadians managed to pile on the pressure to take the win. Against Germany they must be aware of any complacency, but seeing the Swedes fall must be enough to keep the Canadians on their toes. The quality of the rosters is overwhelming, however well Germany has fought so far.
The other pairing seems much more evenly matched. The OAR got out easy against the Norway team that stood no chance from the puck drop. The Czechs had to go through a physical encounter with the team USA and might be a bit worn from that. It's likely to be a tight game, even if OAR is favored due to immense quality in their roster and offense that has scored at will in this tournament.