Follow @AccuScore on Twitter
New England Patriots Favorites to Win Super Bowl
The New England Patriots have been here before.
Bill Belichick has been here before, as has Tom Brady. Jared Goff and Sean McVay are the future of the NFL, but the first shot doesn't always strike the target. AccuScore simulated the Super Bowl 10,000 times to see which team would come out on top, and the New England Patriots won 56.9 percent of simulations, with the Rams still coming out on top 43.1 percent of the time.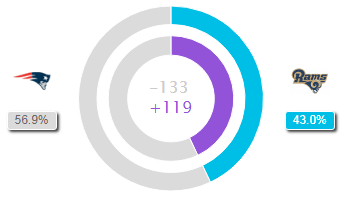 This is projected to be a close game, with the Patriots listed as clear favorites, even if EA Sports' Madden video game had the Rams winning by three.
Vegas agrees for the most part that the Patriots are favorites, with the spread currently at -2.5 points. The total points line is 56.0 points.
AccuScore has expert picks against the spread and on totals for the Patriots versus the Rams:
Click Here for full expert picks and full forecast, including player projections at every position
AccuScore's NFL Expert Picks (regular season and playoffs)
-All Totals Picks: 147-108-11: 58% +2820 profit
-All Spread Picks: 136-111-19: 55% +1390 profit
NFL Expert Picks Net Profit: +4,210
Not a member? This is the best time to join!
Join AccuScore now and you'll get all of our expert picks against the spread and totals for Super Bowl 53, along with NBA, NHL, March Madness and every major European football league. An annual membership will lock you in a discounted rate and give you expert picks for the entire 2019 NFL regular season, playoffs and Super Bowl 54, along with every other sport on the site for the next 12 months. Don't miss out on this special offer:
Join AccuScore Today!*

*use code SB25 for 25% off membership (annual or monthly) instantly