Follow @AccuScore on Twitter
Kansas City Chiefs Offer Best Bet to Win Super Bowl
The first two weeks of the NFL playoffs has passed, but the Super Bowl betting picture hasn't swayed too much from the start of the playoffs. When 12 teams started the playoffs. AccuScore said that the Kansas City Chiefs offered the best value bet to win the Super Bowl, along with picking the Chiefs as the most likely team to win the NFL's title game. At the time, AccuScore picked the four teams with the bye weeks to advance to Championship weekend, which is where we land now.
While Vegas odds have the New Orleans Saints as the most-likely team to win it all, Accuscore simulations still show that it is AFC number one seeded Kansas City as the computer's pick to stand victorious.
After strong performances by both New England and Kansas City, the Chiefs are still the clear favorites to win Sunday and advance to the Super Bowl for the first time since 1969, when KC won its only Super Bowl. New England's track record away from the Foxborough is not very impressive, as they haven't won a single AFC Championship game on the road since 2004. The Patriots have lost all three times they've had to travel at this stage: twice in Denver and once to Indianapolis. However, Kansas City has never played an AFC Championship game on the home, but the divisional round gave a strong indication that KC is ready to claim its home field advantage.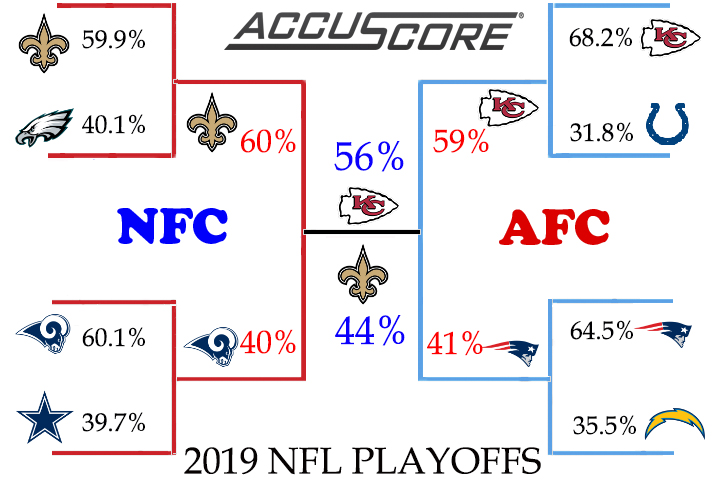 All of AccuScore's NFL Championship Weekend Expert Picks
Join Today
First time members get a free 7-day trial of AccuScore's full site but only if you register for a monthly membership. Join AccuScore Today!*

*use code 2019 for 30% off an annual membership

AccuScore projected these four teams to meet at this stage before the playoffs started, with two high-flying offenses predicted to face off in the NFC Championship game. The divisional game for New Orleans was a low scoring one, which means it may be defenses on both sides that will need to step up and keep this one low scoring one as well.
When comparing Vegas odds to Accuscore Super Bowl probabilities, Kansas City is still only team to have value for betting to win the Super Bowl. Even though the odds have came down from 6-1 to 7-2, the odds are still over 10% better compared to probabilities from the simulations as seen on the table below: