Written by AccuScore Staff
Follow @AccuScore on Twitter
NBA Friday: Detroit Pistons at Orlando Magic - Free Preview
AccuScore simulates every game 10,000 times based on historical data and compares its results to the public odds to derive value and make picks
On Friday night in Orlando, the Detroit Pistons are the slightest of favorites at 50.1% to win, according to AccuScore's simulations. While that still makes the Pistons the moneyline favorites, the odds makers have the Pistons at 58.2% to win, so there's side value on picking the Orlando Magic to pull the upset in this game. AccuScore is +1211 on side value picks when the Pistons are on the road this season, so the trends suggest you take notice.
While picking the Magic on the moneyline may be a bit adventurous, the close nature of this game suggests that Orlando +2.5 may be the better play, and it is a 4-star trends pick from AccuScore, with 55.9% of simulations resulting in the Magic either winning outright or losing by 2 or fewer points.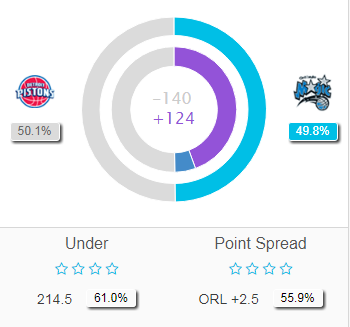 Click here for full free forecast + All of Today's NBA picks
On the Totals pick, AccuScore again has a 4-star pick for Friday's game with 61% of simulations going UNDER the 214.5 combined points. Our forecast also allows you to adjust the line if you're getting different odds.
Hot Trends
-Detroit Pistons: AccuScore is 21-7, 75% +1330 on picking Totals in away games for the Pistons this season.
-Orlando Magic: AccuScore is 18-11, 62% +590 on picking Totals in home games for the Magic this season.
-Detroit Pistons: AccuScore is 17-11, 61% +1211 on side value picks on all Pistons road games this season
-Orlando Magic: AccuScore is 16-13, 55% +417 on side value picks on all Magic home games this season.
Not a member? Try AccuScore Free for 7-days: first time members get a free 7-day trial of AccuScore's full site when you register for a monthly membership. Join AccuScore Today!*
*New or returning: Use code NBA20 for 20% off membership
Player Projections:
Blake Griffin projects to lead Detroit in scoring, averaging 18.4 points and 7.2 rebounds per simulation. Andre Drummond is next on the Pistons with 13.4 points and 13.4 rebounds in the game.
Even Fournier leads the Magic with 15.6 points per simulation, but five different Orlando players averaged double figures in scoring in simulations.