Written by AccuScore Staff
Follow @AccuScore on Twitter
AccuScore's Player Analysis - Las Vegas Golden Knights Expansion Draft
Accuscore has analyzed each and every NHL player during last three seasons. Based on this advanced analytics, we have made our own draft list for the NHL expansion draft that is a starting point for Las Vegas Golden Knights team.
As there are multiple detailed rules for the expansion draft, we are not going to explain all of those. Just on the high level, one player has been drafted from every NHL team and minimum 20 players have been drafted with existing contract. Also total salary of the players needs to be between 43 and 73 million dollars. We targeted to 60 million, so there will be some room for additional free agents and rookie contracts.
The guideline for our picks has been selecting best players, but keeping in mind that there is future for the team as well. Even though some players in an age group 35-45 could be best, we cannot fill the team only with these players. Also some team icons like Patrick Marleau who wasn't protected by San Jose Sharks was not taken in this draft. However, he would be one of the best available forwards, so if he is interesting moving from silicon valley to Las Vegas, that might be good move for Golden Knights.
Not an AccuScore Member? Use coupon code NHL25 and get 25% off an annual membership that include expert picks for every hockey game next season...Become a member today
Goaltenders
We selected Peter Budaj, Calvin Pickard and Michael Hutchinson as goalies. The best available goalie, and the best player overall, is Vancouver's Ryan Miller, and he could be a target for free agent negotiations. Pickard can be a franchise goalie in a long term and Budaj played very well when backing up Jonathan Quick before the trade to Tampa Bay.
Other potential goalies with high ratings in player analytics to be selected are Elliot from Calgary and Ward from Carolina. They have still years left in a tank and Ward has still one year left in his reasonable priced contract.
Defenders
The core of the Golden Knights defense will be built on four cornerstones: Kevin Shattenkirk - Washington, Matt Dumba - Minnesota, Ian Cole - Pittsburgh and Sami Vatanen - Anaheim. All of these players are on the top of their game with 10 years left on the top NHL level. Shattenkirk and Dumba provided good offensive contribution during last season and we can expect same from Vatanen after he has recovered from the shoulder injury.
After Shattenkirk, the second best defender available based on Accuscore player analytics is Montreal's Andrei Markov. He is another free agent, so one experienced bluelined could be added during free agency. Also San Jose's Paul Martin is fitting this role as an experienced stay-at-home defenceman without contract in July.
The young group of Golden Knights defenders is completed by van Riemsdyk (Chicago), Wiedeman (Ottawa), Del Zotto (Philadelphia) and Quellet (Detroit). All of them are under 27 and can be evaluated during first year in Las Vegas in order to tie top of the with long term contracts.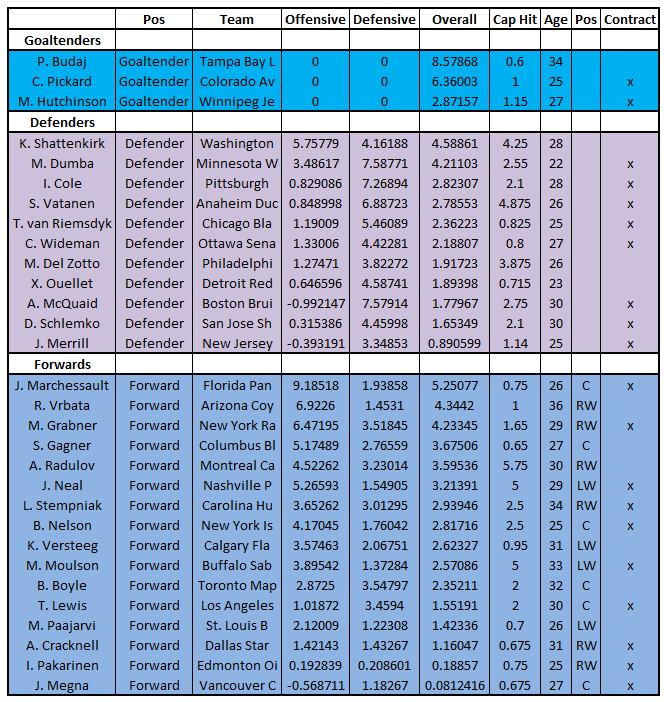 Forwards
The best player in the group of available forwards based on Accuscore analytics is Washington's TJ Oshie. Moreover, as there is lack of real top defenders, we decided that it would be better to take best defender (Kevin Shattenkirk) instead of best forward. As Oshie is free agent, it would make sense to add him to the roster, if possible.
Top forward in a long term for Golden Knights will arrive in the form of Jonathan Marchessault from Florida Panthers. He is second best forward based on our analytics and has the best offensive rating among all available players. Centers are the cornerstones of any good offense in NHL. Las Vegas can take Sam Gagner from Columbus to fill a second line role for a top center.
Arizona's free agent Radim Vrbata and New York Rangers' Michael Grabner are top selections for right wing roles. Minnesota's Eric Staal is higher ranked player compared to these two, but again top defender in the form of Dumba was preferred. Also San Jose's Patrick Marleau has higher numbers based on Accuscore analytics, but we think that he will prefer retirement in Sharks' jersey.
If we think the salary cap hit during this year, the highest priced player selected is Montreal's Alexander Radulov. Few other high priced forwards are James Neal from Nashville and Matt Moulson from Buffalo. Especially Neal played strong season that pinnacled to Stanley Cup finals. Especially young team looking for identity doesn't have too many of this kind of players around.
Stempniak from Carolina, Nelson from New York Islanders and Versteeg from Calgary are good fits for third line of Golden Knights. When there will be few additions from the free agency and entry draft, it might be the case that these players will face tougher than expected fight for their positions.
Patrick Eaves from Anaheim and Justin Williams from Washington are few experienced players with higher player ratings, but as only one player can be selected per team, they won't be targeted this time.
Los Angeles Kings' Dustin Brown has better rating compared to his teammate Trevor Lewis, but his salary is almost 4 million more. With many better right wings available, there is no reason to tie up huge amount of salary cap to mediocre player like Brown was this season.
This is not a prediction what is the Las Vegas Knights 30 selected players in the expansion draft. There are many deals ongoing back and forth that are difficult to know or predict. These are best players available per rules and with some above mentioned tweaks.