The first round of NHL Stanley Cup playoffs was riddled with surprises, which the simulation couldn't predict. In the west, top two seeded teams are out. Both Chicago Blackhawks and Minnesota Wild stumbled on the first round, with Nashville Predators and St. Louis Blues progressing through with seeming ease. In the east, it was much more like we predicted and 4/4 teams progressed as anticipated, with Pittsburgh and Washington plowing through as favorites, while Senators and Rangers surprised as underdogs.

The second round of games are as close as it gets, with each pairing evenly matched. Even if it looks like a coin-flip at first glance, there are small factors that tilt the scales one way or another.

Here is how Accuscore simulations see the NHL Stanley Cup Playoffs Conference Semi-Finals and beyond: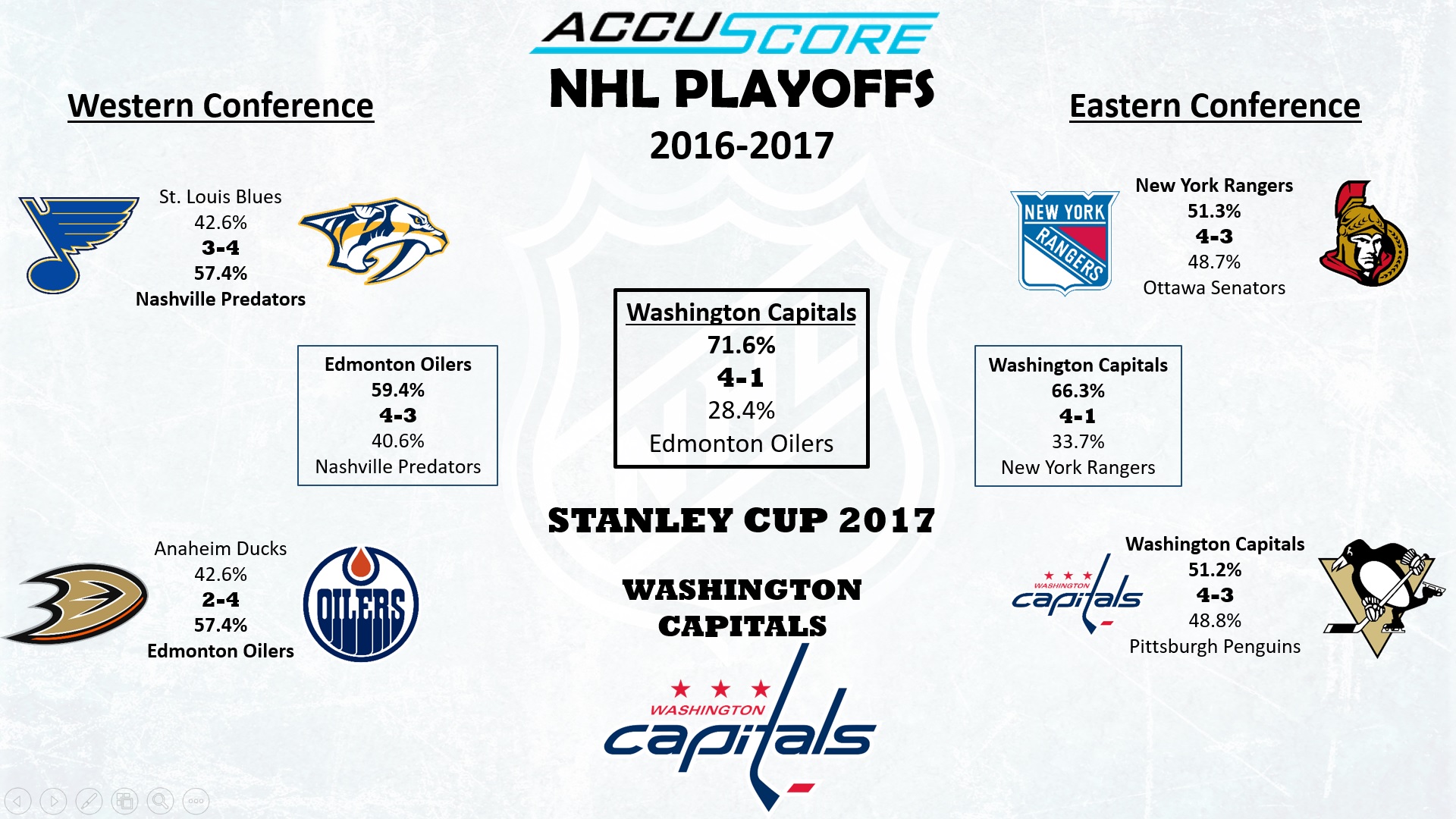 St. Louis Blues – Nashville Predators
The battle between two red hot goalkeepers, Jake Allen and Pekka Rinne, as well as two gritty, defensive-minded and hard-working teams. It would be no surprise if we see the first game seven of this post-season between the Blues and Predators. Both teams gained a massive confidence boost by beating top-rated opponents in the first round and neither of these underdogs will go down easy. In simulations, Predators is marginally better and will steal the win in game seven.
Nashville in 7
Anaheim Ducks – Edmonton Oilers
The Ducks progressed from the first round without breaking a sweat – that's how bad Calgary Flames was, especially in the net. Sweeping the Flames was one thing, taking on high-octane Oilers is a whole another story. Despite dominating the series, Ducks didn't put in their best effort and they could be in trouble against fast and energetic Oilers, led by superhero Conor McDavid. Oilers are likely to run circles around Ducks and go to conference finals.
Edmonton in 6
Washington Capitals – Pittsburgh Penguins
The eastern conference behemoths face-off already in the conference semi-finals. By far the biggest favorites to take the conference title, and this year it's likely to finally be the Capitals turn. Penguins lost their no.1 goalkeeper Matt Murray and no. 1 defender Kris Letang to injuries, but still managed to beat Columbus comfortably. Capitals had some problems getting their game going against youthful and fast Toronto team, but finally pushed their way through in six games. This time Capitals will get their revenge and head to conference finals.
Washington in 7
New York Rangers – Ottawa Senators
Another pair with fantastic goaltending as Rangers' Henrik Lundqvist and Senators' Craig Anderson are on top of their game. The teams are quite evenly matched in other areas as well, even though Rangers seems to have a slight edge in both quality and depth of the roster. Their offense has struggled a bit come springtime, but King Henrik and the D has made up for the lack of scoring. The potential is there, though and Ottawa's not-so-solid defense will have to up their game once more – which they've already done. Despite Erik Karlsson, Mike Hoffman and Mark Stone, Senators' lack the quality and quantity to go further, so it is Rangers in game seven.
New York in 7