Please visit Serie A Game Previews for all match forecasts & the latest previews if no picks are visible

AccuScore's betting system provides expert picks Every Serie A match. After restructuring our expert picks system, AccuScore now assigns a 1-4 star rating for 3 types of Italian Serie A picks. For a detailed explanation of these 3 types of picks, please read below:
Explanation of Italian Serie A Expert Picks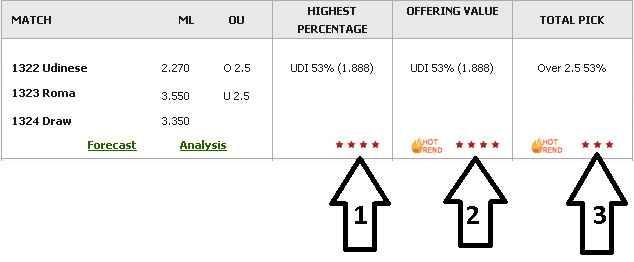 there are 3 different types of picks for Every Serie A match
1. Highest Percentage Pick
By clicking on Arrow 1 above, a highest percentage pick box will pop up (as seen below). This box identifies the most probable outcome in the match, as determined by AccuScore's over 10,0000 simulations. In the example below, Udinese won 53% of simulations vs 21.2 for Roma, so Udinese is the highest percentage pick at 1.888. Below this pick is the "team trends" which is just the team's record in the Serie A table. Below that is the DLR (daily line report) trends. These trends help determine the star level of this pick. Since these teams are a combined 9-1 with net returns approaching 700%, this is clearly a 4 star pick.




The highest percentage pick does not take into account side value
2. Offering Value Pick
By clicking on Arrow 2 in the 1st illustration, an value pick box pops up (see below). At the top of this box is the pick offering value, as determined by AcccuScore's simulations when compared to public odds. In the example below, Udinese has a 53% chance of winning according to AccuScore's computer but oddsmakers only give them a 43.2% chance to win. As such, AccuScore's value pick for this match is Udinese at 1.888. Below this pick, there are the DLR trends which give AccuScore's record when picking these teams in value situations. Although AccuScore is only 3-2 in value picks involving Roma away from home, the net profit for in those picks is nearly 188%.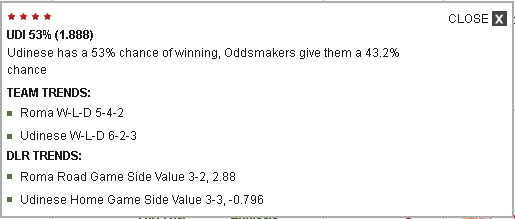 3. Totals
Clicking on the 3rd arrow in the first illustration leads members to the totals (over/under) pick for the match. As you can see in the illustration below, AccuScore's 10,000 simulations resulted in Roma and Udinese combining for over 2.5 goals in 53% of simulations. AccuScore views results over 50% to have value and identifies them as the pick. For these picks, AccuScore also has DLR trends and extra team total trends that give you more insight into the star rating of this pick.




The Serie A is currently seen as being in decline, but AccuScore's profits are still up. Juventus is the perennial top dog, but Roma, AC Milan and Inter Milan all appear to be on the verge of dethroning the kings of Italian football. With several new signings all across the league, the 2015-16 campaign promises high drama and tough competition. Also, winning picks help make the Serie A enjoyable as ever.