Written by AccuScore
Follow @AccuScore on Twitter

MLB Playoffs Membership Special: Join AccuScore now using the code MLB for $100 off an annual All-Sports premium membership. This includes picks, trends and analysis for the remainder of the 2016 post season, all of the 2017 regular season, as well as AccuScore's award winning NFL picks, NCAA Football Bowl season, NHL and NBA seasons and every other league AccuScore covers: Join Today
MLB League Championship round and World Series
The MLB Post Season started with a bang, as Toronto Blue Jays swept the American League regular season winner Texas Rangers and Cleveland Indians left the oddsmakers' AL favorite Boston Red Sox with zero wins. The National League divisional round was more even-balanced, with Cubs ousting Giants after some breath-taking maneuvers in four games and Dodgers outlasting the Nationals in a five game series.
As it stands, Accuscore's pre post season prediction became outdated early on. With the new data acquired from the first rounds of playoff baseball, the simulations are likely to be more accurate and precise. So let's have a look at MLB League Championship series in light of Accuscore's simulations.
American League: Toronto Blue Jays vs Cleveland Indians
Blue Jays big bats were red and hot against the Rangers, scoring 10, 5 and 7 runs respectively. The pitching was top-notch as well; despite allowing 13 hits in game two they kept the Rangers heavy hitters at bay with only 10 runs scored altogether, six of them in the last game. As the Blue Jays were such overwhelming winners, it's hard to say if it was just a perfect performance – or was Texas just that bad. Safe to say the Indians will not be as submissive.
Cleveland impressed in all areas against the shaky Red Sox and exploited their weaknesses with killer instinct. Red Sox' problems on the mound only got worse as Indians got off to a flying start in the first two games, taking a lead already in three first innings. The pitchers were as solid as ever for the Indians, even without Danny Salazar. Especially Corey Kluber's shut out in game 2 was a definite highlight of the series.
Accuscore Prediction: Toronto Blue Jays in 4
Blue Jays manage to snatch an away win early on and then hold on at home. Close games with one run margin are expected, but also some heavy scoring especially in Toronto.
National League: Los Angeles Dodgers vs Chicago Cubs
A highly anticipated matchup between the teams that have been so close but not quite there for some time. Dodgers took the pendant in 1988, while Cubs have waited a while longer since 1908. One of the two will be hugely disappointed once again.
The Cubs dodged the first bullet by beating the surging Giants in four games. Looking as good as they did in the regular season, the Cubs took control when it was needed and secured the two first wins with ease. Only Madison Bumgarner was able to make Cubs look somewhat vulnerable, but then the batters came up strong in the last inning of Game 4 to finish off the Giants.
Dodgers had to do it the hard way in five games. What was first predicted to be a low-scoring matchup with tight defense and better-under-pressure-pitching, turned out to be somewhat of a rollercoaster series for both teams. Dodgers stole the first win from Washington, but Nationals answered by winning the next two and putting the Dodgers their back against the wall. After taking a 3-8 beating at home and allowing 4 runs in the final inning, it all looked very bleak for the Dodgers. But the response was magnificent and the team looked excellent in a high-pressure situation, in both of the last two games.
Accuscore Prediction: Chicago Cubs in 7
Both teams trade wins on the road, but Cubs manage to hold on to their final home stand. Better overall pitching turns the tide in the end as there's not a lot of scoring with plenty of aces on the mound.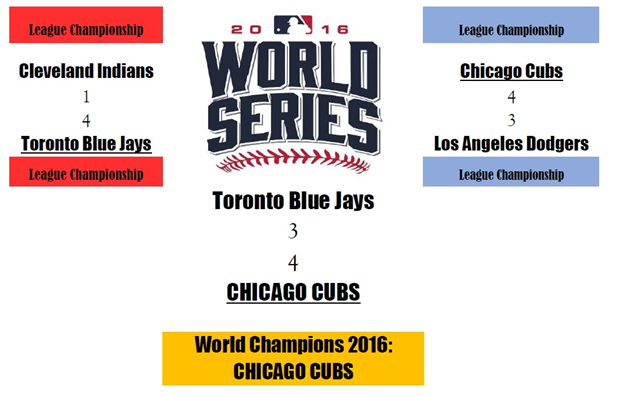 The World Series between Toronto Blue Jays and Chicago Cubs is predicted to be an instant classic. Toronto has the edge in overall offense, but Chicago's brilliant pitching team seems invincible at times. Despite home advantage, the Blue Jays drop the final and decisive game at Rogers Centre and Chicago Cubs celebrate their first World Series since 1908 – in Canada, of all places!