The knockout stage is set in the IIHF World Championships 2018 and only the top eight teams remain. The biggest favorites are still in the tournament, but the odds have shifted somewhat from the beginning. You can find Accuscore's Analysis on the quarter-final stage of the tournament here.
Here's how the Accuscore simulations indicate the playoffs to go through until the World Champions is decided: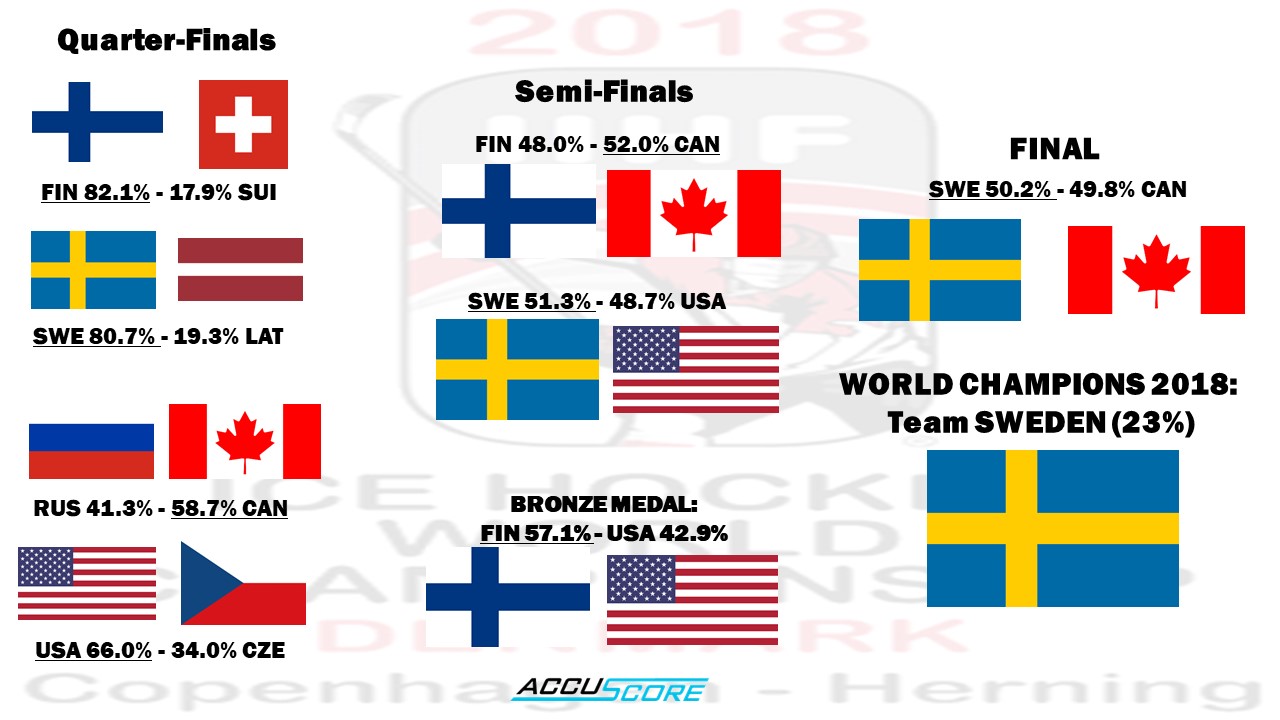 Accuscore Analysis
The first playoff stage looks to be rather clear, except for the meeting of the two giants Canada and Russia. Sweden, Finland and USA are clear favorites to go to the semi-finals and Canada is also favored over Russia, if not as certainly as the three others. Then it gets a lot trickier, with all the top four teams evenly matched with 45-55 % probabilities either way. Sweden is favored over any of the possible opponents, if only by a couple of percentages. Canada and USA have left a bit to hope for and are evenly matched with Finland, who have already beaten the North American duo once in the group stage. Czech Republic and Russia are very much counted as outsiders, not really standing a chance to win three big countries in a row to reach the championship. Switzerland and Latvia have a tiny chance to surprise in quarter final stage, but going forward the mountain is just too high to climb.
The probabilities to win the World Championship according to Accuscore simulations, compared to Vegas odds: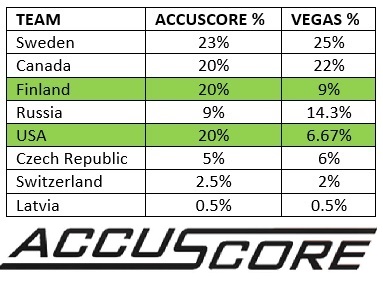 The best bets at the moments according to Accuscore simulations go for Team Finland and Team USA. They're not the biggest favorites, but have shown some remarkable potential already and might only get better as the games go on. The odds are definitely undervalued as the teams will not face each other in the semi-final either, if they push through the quarter-finals first. Sweden is still the favorite, but not as strong as the odds indicate. Same goes with Canada, while Russia hasn't impressed against any of the bigger teams.