Follow @AccuScore on Twitter
AFC North Predictions: 2018 NFL Previews
The AFC North has been one of the toughest divisions in the NFL in recent years. Last season, however, was an exception as Pittsburgh dominated the division and was the only only team in the division to reach the postseason. This season, simulations show a traditionally tight race between the Steelers and the Ravens.
AccuScore's Expert Picks: NFL Week 1 Picks
All of AccuScore's Spread and Totals NFL Picks - 2016 and 2017: +7,070 profit
At the start of the season, Pittsburgh's star running back Le'Veon Bell's involvement for the opening game remains in doubt. His absence will hurt the Steelers, obviously, but even without him, they should be competing for the division title. The Steelers win total is projected to be between 9 and 10 wins, which puts their postseason chances at well over 60%.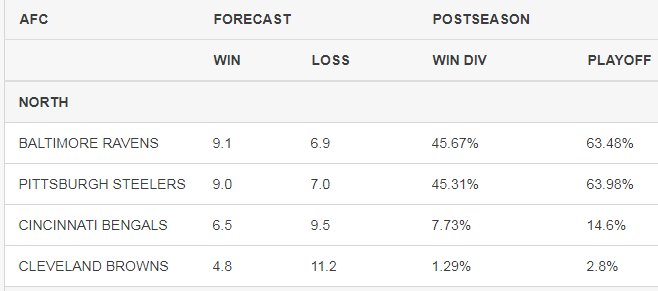 Not a member? Try AccuScore Free for 7 days:
First time members get a free 7-day trial of AccuScore's full site when you register for a monthly membership.
Join AccuScore Today!*
*use code NFLbegins for 15% off membership - Limited Time Special
After a few flightless years, the Ravens are looking for a return to playoffs. A completely overhauled receiving corps should give Joe Flacco better tools to help bounce back from last season's struggles. Simulations like Baltimore's chances, which are well over 60% to make the playoffs. Even though the Ravens don't project to beat the Steelers in the division, they have best chances to punch a Wild Card ticket in the AFC.
The Cincinnati Bengals are coming of consecutive below .500 seasons. And AccuScore doesn't think they'll bounce back this season, which the projections predicting a win total between 6 and 7 wins. That gives only a 15% chances to make the playoffs. They didn't make any big moves during the offseason, while division rivals stayed strong or improved rosters.
For the last two seasons, the Cleveland Browns have won only a single game - last season's record was 0-16. They have made solid additions to their roster and are hoping for results from the first pick in the draft - QB Baker Mayfield, but again, this season looks like it won't be stuffing the wins column. The predicted win total for the Browns is 4, and it is a bit strange to see Vegas' futures win total line as high as 6. Playoffs probability is higher than year ago, but low enough that it's hardly worth mentioning.
Other Previews:
AFC West Preview 2018
AFC East Preview 2018
AFC South Preview 2018

NFC West Preview 2018
NFC East Preview 2018
NFC North Preview 2018
NFC South Preview 2018