Written by Rohit Ghosh
Follow @rohitghosh on Twitter
Lakers @ Celtics: Celtics 75.2% to win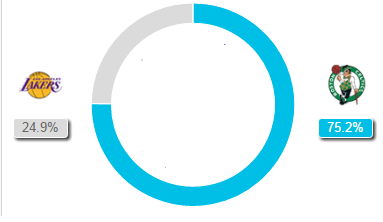 Just one night after a 116-108 loss in Washington, the Los Angeles Lakers head to Boston for a national TV matchup with the Boston Celtics.
The Lakers are an 11-point road underdog, with the total set at 221.5. The line opened with the Celtics favored by 12.5 points. Once the Lakers-Wizards contest ended, the line dropped down a point and settled at 11.5.
For AccuScore's picks against the spread (4-star Pick) & on the Over/Under: Click Here
What to Watch For
The 5'9" Beast: Celtics guard Isaiah Thomas not only leads the league in fourth-quarter scoring, but also comes into Friday night's matchup averaging just a shade under 30 points per game, good for No. 2 in the NBA behind Russell Westbrook. Keep an eye on the number of trips he gets to the free-throw line. Sure he shoots about 47 percent from the field and 39 percent from beyond the arc, but he's able to stay that efficient by averaging nearly 9 free-throw attempts per game. If the Lakers can defend his drives to the basket without fouling, it's a whole new ball game.
Swaggy 3: It was announced Thursday night Lakers guard Nick Young would be competing in this year's three-point contest at All Star Weekend in New Orleans. According to ESPN Stats and Information, among the 8 Three-Point Shootout contestants, Kemba Walker, C.J. McCollum and Nick Young rank in the top 3 in three-point percentage in 3 of the 5 shooting areas, the most among the 8 contestants.
Rebounding: If the Lakers are going to stay competitive on the back end of a road back-to-back, they'll need to take advantage of Boston's glaring weakness: rebounds. Opponents average a shade over 54 rebounds per game, putting Boston near the bottom of the league in the category (No. 27). The Lakers are about middle of the pack when it comes to rebounding, ranking No. 16 at 51.9 rebounds per game.
Not a member? Join Today! Free 7-day trial for new members who sign up for a monthly membership: Try AccuScore today