The first round of playoffs in the KHL didn't see any surprises - at least for those who follow Accuscore! In our pre-playoff predictions we had all eight progressing teams correct, including the only underdogs (and non-Russian team) to go through, Barys Astana from Kazakhstan. In the western conference Lokomotiv Yaroslavl was remarkably better than anticipated, while their opponents Dinamo Minsk ran out of gas after great run in the regular season. The other pairings we predicted very much spot on and for the KHL Playoffs 2016-2017 - Conference Semi-Finals we have updated the brackets as follows.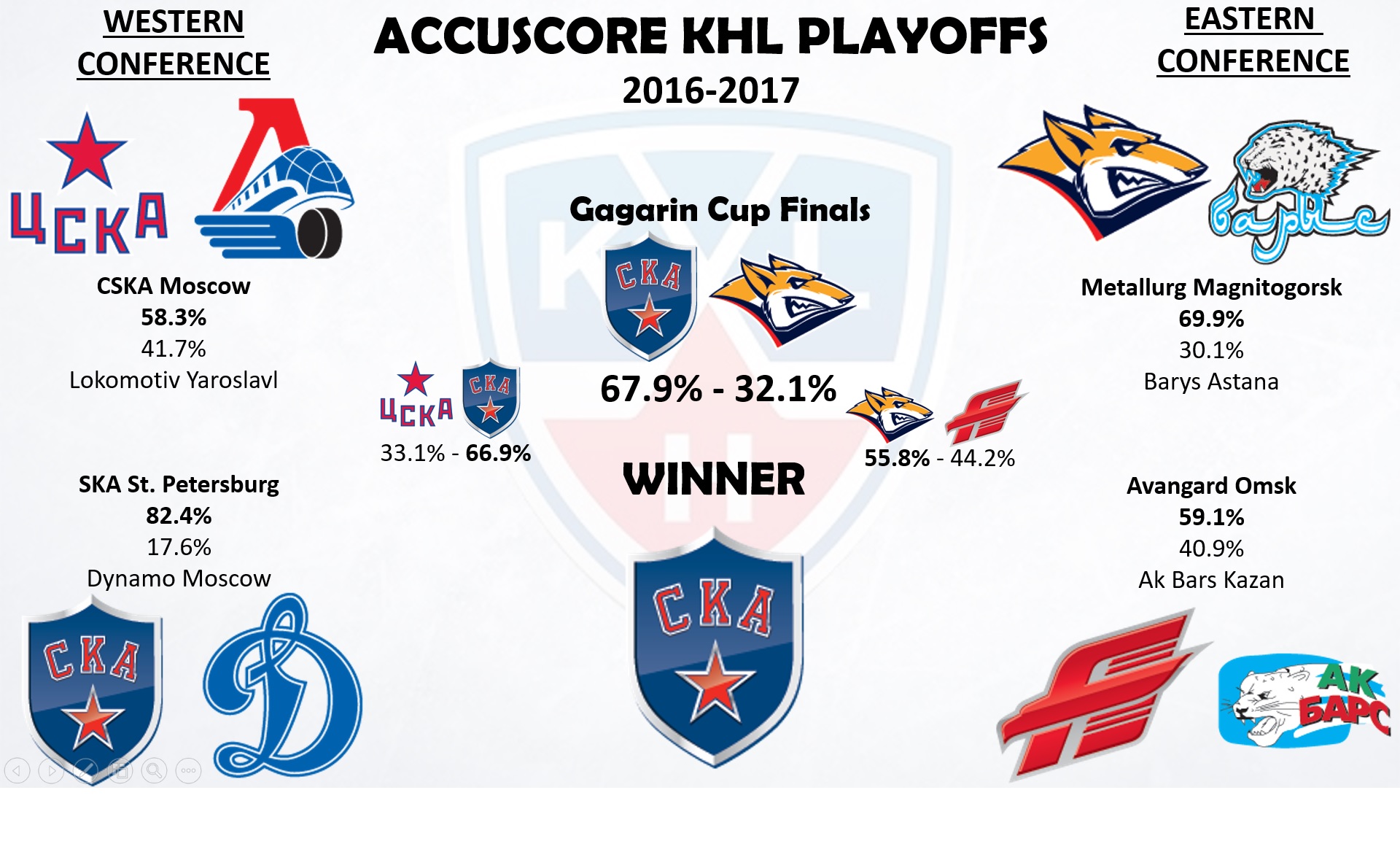 CSKA Moscow - Lokomotiv Yaroslavl
CSKA will progress with 58.3% probability. The most probable result of series is 4-3 (18.5%)

Lokomotiv took Minsk by surprise in the first round and proved that the team is ready and set for playoff-hockey. Led by Brandon Kozun's nine assists and ten points in five games, they grinded and stopped Minsk's dangerous offense in their tracks. Facing CSKA will be a much tougher task though and the Moscow team had good practice of tough playoff-hockey against Jokerit. Even if the series went 4-0 to CSKA, they won 3/4 games in overtime. The series between two disciplined, experienced and talented teams is likely to go all the way to game 7.

SKA Saint Petersburg – Dynamo Moscow
SKA will progress with 82.4% probability. The most likely result of the series is 4-1 (28.6%)

SKA gave absolutely no chance to minnows Vityaz in the first round, beating them comfortably in all four games. SKA scored 19 goals altogether, allowing six in the progress. Hardly a test for the most prestigious team in the KHL, but they did seem to click all over the ice and are by far the biggest favorites to head to the finals. Defensively minded and well coached Dynamo Moscow were in slight trouble with Torpedo, winning three times in overtime. Torpedo, pretty much a "cheaper" version of Dynamo, might've fit the Moscow outfit way better than the speedy and skillful SKA. It will be a battle between the defensive Moscow side and all-out-attacking, star studded SKA. In Accuscore simulations, the offense beats defence in this series, by score of 4-1.

Metallurg Magnitogorsk – Barys Astana
Metallurg will progress with 69.9% probability. The most likely result of the series is 4-1 (21.9%)

Reigning champions Magnitogorsk might have looked flamboyant at times, but in the playoffs they've once again stepped up their game - but only just enough. Newcomers from China, Red Star Kunlun managed to cause only a minor nuisance and Magnitogorsk did not need to show their true colors just yet. Barys Astana, who surprised Traktor Chelyabinsk in the first round, will be in for a treat when Metallurg fires off all the cylinders. Despite ousting Traktor, it's hard to see Barys able to stop Magnitogorsk's offense, let alone matching their scoring prowess. We might witness some intense and heavy-scoring games, but eventually the reigning champions will progress in five.

Avangard Omsk – Ak Bars Kazan
Avangard will progress with 59.1% probability. The most likely result of the series is 4-3 (19.7%)

Extremely interesting matchup between two traditional powerhouses of the east, who have had their ups and downs during this season. While Omsk is likely to try and outscore their opponents, Kazan will most definitely sit back and push their way through when opportunity arises. In the first round Avangard did lose twice by one goal in Vladivostok, but outscored their opponents in remaining four games 16 to 4. Kazan went pretty much exactly the other way, by winning four games 2-1 and losing once 4-3. Stopping Ufa's offense in the first round was no easy task by any means, but can they repeat the feat against more balanced Omsk? The computer says no, but it is extremely close: Omsk in seven.