Winter Olympics 2018 - Men's Ice Hockey Tournament
The Olympic Games in Pyeongchang, South Korea are well on their way and men's ice hockey starts rolling today. With no NHL players involved, and bunch of Russian athletes banned, it will be an intriguing tournament mostly with players earning their pay in European leagues.
Participating countries include the usual big six Canada, Olympic athletes from Russia, Sweden, USA, Finland and Czech Republic, who are once again the favorites even without their NHL players. The challengers Switzerland, Germany, Slovakia and Norway are perhaps lacking international big names, but have gathered their teams from mostly domestic league players who know each other well. The dozen is completed by Slovenia, who are unlikely to pose any challenge this time around and hosts South Korea, with a team including only players from Asian leagues and hence definite pushovers.
The tournament format has been widely criticized but at least it emphasizes participation in Olympic spirit. The 12 teams are divided into three groups, within which four teams play once against each other. The winners of the group and the best no.2 head straight to top-8, while the rest play a knockout round for the four remaining spots. While the system is fair and guarantees at least four games to each team, the group stage games are, in fact, pointless since all of the teams head to playoffs anyway.
Accuscore's simulations on Olympic Ice Hockey tournament are based on team and player statistics from past national tournaments and adjusted player statistics from different national leagues. While the science is complex as comparison between the leagues is all but straightforward, the simulations are quite close to those predictions set by the betting companies. However, there are a couple of surprises as always! Here's how Accuscore's simulations predict the Olympic Ice Hockey 2018 tournament to go: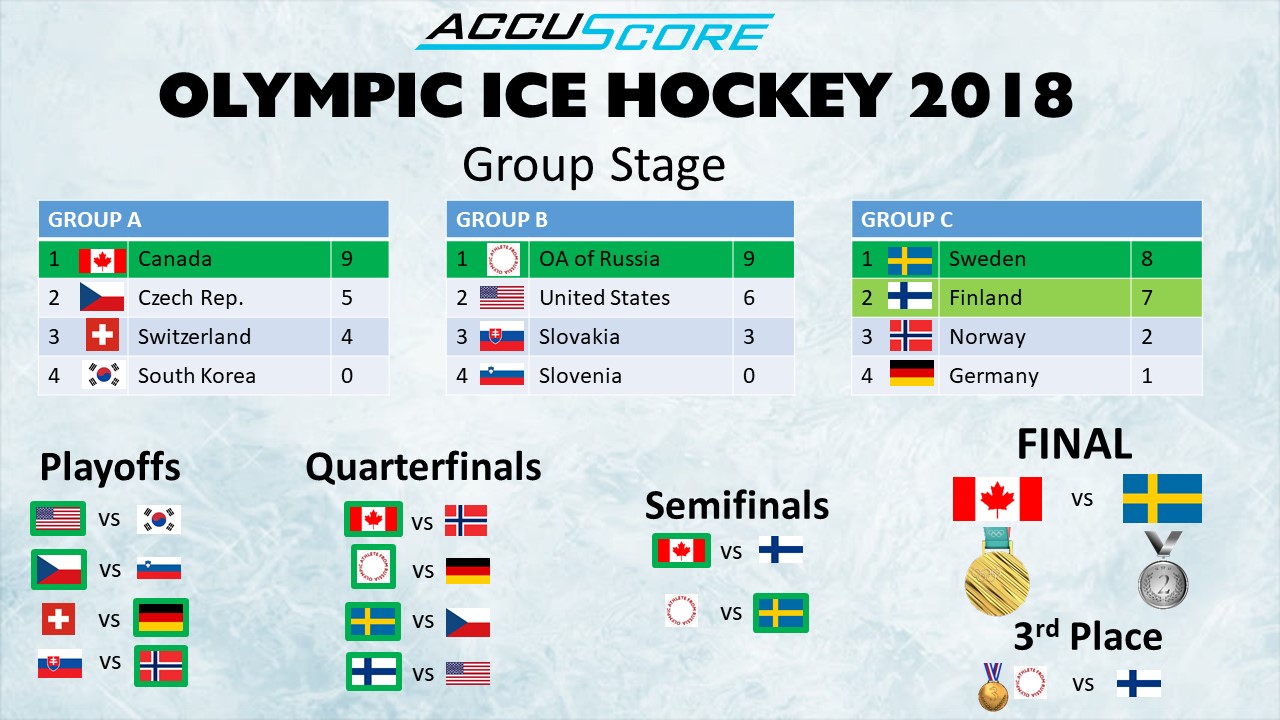 Join ACCUSCORE now and get 25% off the annual membership by using code "NHL25"!
Expert Analysis
As previously stated the table is set for the big ice hockey nations to take advantage of their excellent depth in competitive European leagues. It's no surprise that Canada and the Olympic athletes from Russia are likely to take their groups by storm. While Canada has often trusted NHL-players in World Championships, their European quality has increased significantly as of late. Russia, playing without national banners, have a well gelled team with players only from three top clubs in KHL and featuring such names as Pavel Datsyuk, Ilya Kovalchuk and Vadim Shipachyov. Sweden's player production to NHL has been out of this planet lately, so no surprise they've massive amount of quality in Europe as well. While the Finnish team seems a bit dull from the edges, they've proved to be always competitive in international level and have great depth which might come in handy with extremely tight schedule. Czech Republic and USA have quite similar teams, with quality on top but probably little bit lacking in depth – same goes with Switzerland, icing a squad solely from their domestic league, which arguably still pales in comparison to Swedish and Russian (Kontinental Hockey League) leagues.
Surprises in the simulations come from lower in the tables. While Germany's domestic league DEL is competitive, it's still mostly because of foreign players. Their loss to Norway – in overtime – is still a shocker, since Norwegians come mostly from not-so-great domestic league. The difference is tiny, though and Germany then goes on to beat Switzerland in the playoffs, if only after overtime. As predicted by many, South Korea joins in only for show and Slovenia can't do much better. Slovakia is competitive at first, but can't match USA in group stages and then run out of gas against the surprisingly feisty team Norway in the playoffs.
Quarterfinals are not likely to provide any shockers and the top four is as quite normal. In the semifinal, though the Russian team surprisingly stumble to the Swedes who then head to even matched final with Canada. Their encounter is – once again – close to a coin toss, but Canadians eventually prevail. In bronze game Russian's overcome the Finns by small margin and make history by winning the first ice hockey medal for fabricated "Olympic athletes from Russia" team.