Written by AccuScore Staff
Follow @AccuScore on Twitter
2018 NFL Playoffs: AccuScore's Predictions
Finally, the 2018 NFL Playoffs are here.
After 17 weeks of one of the most interesting NFL regular seasons in history, the playoffs are ready to kick-off. While Accuscore has simulated every game until the Super Bowl 52, let's first take at how the computer performed in 2017.
After picking spread, totals and moneyline for all 256 games.,..
Accuscore's Record for the 2017 NFL regular season
• Against the Spread: 127-110-19, +600
• Totals: 136-109-11, +1610
• Moneyline: 167-89, +276
Aggregate: +2486 profit
As any shark will tell you, the point is to make a profit, and across the board, AccuScore made a profit and picked EVERY game this season.
With a season full of data now ready to step up in the postseason, we have 11 Playoff games with which to increase our profits and pad that wallet.
As a reminder...
AccuScrore's 2017 NFL Playoffs Picks
• Against the Spread: 8-3, +470
• Totals: 6-5, +50
• ML: 10-1, +510
Aggregate: +1,030 profit
Not a member? Join AccuScore today and get all of our NFL playoff picks at 25% off because, well, we're in a good mood. It's 2018 and we love the NFL playoffs for the aforementioned reasons.
Use code "quarters" and get 25% off membership instantly. No questions asked. Annual or monthly membership. What are you waiting for?! Join today!
With the full 2017 regular season data incorporated, our computer simulated ever game 10,000 times to come up with our 2018 NFL playoff bracket. Our computer simulates every game 10,000 times and compares our percentages to the Vegas odds to make winning, value picks for each game on our NFL picks page. There's a free preview there, too.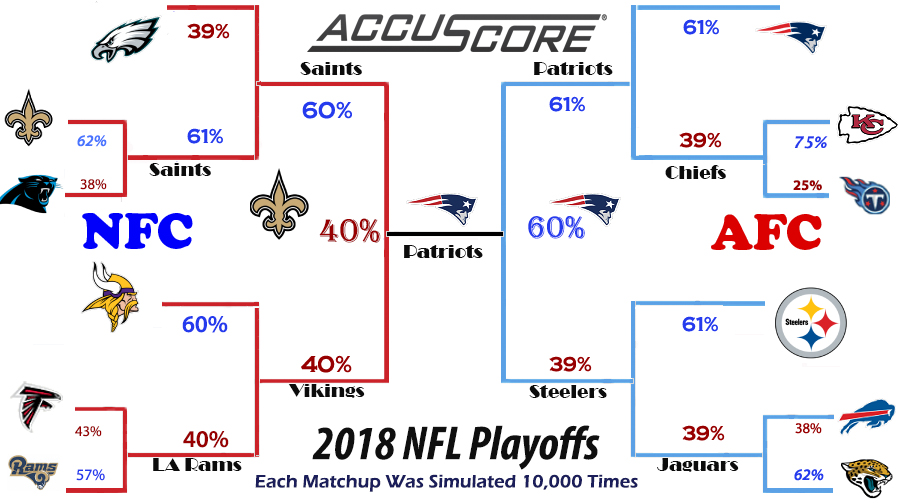 It is not a fantastic surprise that the computer is sticking with its pre-season Super Bowl 52 pick, the New England Patriots. After few hiccups at the beginning of the season Tom Brady & company still finished with a first round bye and playing well enough to maintain their position as favorites.
Another QB that has been on the top of the passing stats sheet, New Orleans' Drew Brees seems to lead his team to another run to the Super Bowl. The Saints had one of the most difficult schedules during regular season, but their offense was once again able to provide enough production for 11 wins.
There are tight 60-40 games across the playoffs board that will be updated after each round of games with playoff data. It'll be interesting to see if rookie head coaches will continue their strong results into the postseason. Even though the Patriots are team to beat again, there is no single team that is head and shoulders ahead of the pack.
The experience from previous Super Bowls is lifting some team's probabilities a bit. New England, New Orleans and Pittsburgh have head coaches that have won Superbowls with their current teams. Stability helps. Head coaches of Kansas City, Atlanta and Carolina have Super Bowl experience on their resumes as well. Rookie head coaches and others with only little experience from the playoffs have to catchup in a hurry, with teams like Tennessee and Buffalo calculated at Super Bowl winning probabilities of 1%.
Check back after every round for updated playoff projections