Written by AccuScore Staff
Follow @AccuScore on Twitter
AccuScore continues to preview every team and division in the NFL ahead of the 2017 NFL season kickoff:
AFC North: 2017 NFL Division Previews

Membership Special: NFL Picks against the spread for the 2016 NFL season (including playoffs) finished 151-99-17, 60.4% +4,210 profit. Include Totals and AccuScore's 2016 NFL picks were nearly +5,000. So, what are you waiting for? Use coupon code football30 and get 20% off a premium All-Sports membership - Join AccuScore Now!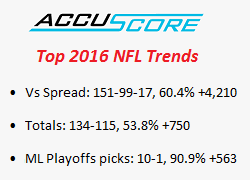 Week 1 Picks are Live! ...AccuScore's Week 1: NFL Picks
Pittsburgh playoffs streak continues
The Pittsburgh Steelers have reached the playoffs in each of the last three seasons, and they have improved year after year. Three years ago, they lost in wild card game, two years ago they lost in divisional game and year ago they lost in conference final to the eventual Super Bowl winners. So is this the year for Pittsburgh?
Accuscore season simulations predict that Pittsburgh finish top of the AFC North again. The Steelers project to win 11 games and the probability to win division is 55%. Before the start of the season, the Steelers look like one of the safest bets to reach the postseason. Added to that, Pittsburgh starts the season in Cleveland, which should be a nice easy win to get the season going.
Roster Moves:
As Pittsburgh appears to be heading in the right direction the last few seasons, the front office hasn't made too many earth shattering changes to the roster. Departures of Lawrence Timmons and Jarvis Jones from the linebackers corps are notable, but most probably will not have a massive impact on the performance of the defense. Backup running back DeAngelo Williams was also replaced by Knile Davis. Last season's injury and declining performance led to the release of WR Markus Wheaton, but Antonio Brown, Martavis Bryant and Sammie Coates should provide enough targets for Ben Roethlisberger.
Fantasy Analysis: Pittsburgh Steelers
The Steelers' defense is one of the best in the league. Accuscore's fantasy projections list them as a Top 4 team fantasy defense. Other good picks for your fantasy team from the Steelers are Le'Veon Bell, who is projected to finish Top 3 among running backs, Antonio Brown, a top 10 wide receiver, as well as Martavis Bryant, who is projected to be 26th among all WRs. Even though QB Ben Roethlisberger is not projected to gather top10 fantasy numbers at his position, he has still everything that it takes to lead Steelers to playoffs.
Other 2017 NFL Previews:
NFC North Division Preview
NFC East Division Preview
NFC South Division Preview
NFC West Division Preview
AFC West Division Preview
AFC East Division Preview

Ravens trying to end playoffs drought
Since winning the Super Bowl in 2012 season, the Baltimore Ravens have reached the playoffs only once and won only one game during that run in 2014.
The Ravens are predicted to have a 9-7 record and put them on the bubble with a handful of other wildcard teams. Baltimore has a 30% chance of winning the AFC North, but include the likelihood of making the postseason is up to 50% when including the Wild Card.
Roster Moves:
There have been quite a lot of departures from the Ravens' squad this summer. Both lines took a hit when Lawrence Guy (DE) and Ricky Wagner (OT) left the team. Baltimore is rebuilding via the draft and spent 3 out of 4 top draft picks on the defensive line. Also, the retirement of WR Steve Smith will have impact on the team. Despite missing the playoffs, QB Joe Flacco had a career season in 2016 when he broke 4000 passing yards for the first time. Due to injury, though, Flacco's status for the opening game is up in the air and it could be that he is not 100% during first few weeks of the season.
Fantasy Analysis: Baltimore Ravens
For fantasy players, the Ravens have no one to offer in the first round. Depending on the severity of the injury, Flacco's projected to be a top15 fantasy QB. Also, WR Jeremy Maclin can be a good late rounds addition to your team, but if Mike Wallace and Breshad Perriman take most of the snaps, he won't be a difference maker. Once a league leading defense, the Ravens still rank Top 8 for fantasy.
Cincinnati bounces back to a playoff contender
Last season ended the Bengals' five-year streak of a postseason play. Sadly, the Bengals did not collect a single postseason win during that five-year span. Still, only six wins during the 2016 regular season was a clear step backwards from past performances of this team.
Accuscore predicts that the Bengals will bounce back to fight for the playoffs spot. Even though they do not project to be a threat to the Pittsburgh Steelers and should have a tough time topping the Baltimore Ravens, Cincinnati should start moving back in the right direction. Based on season simulations, the Bengals project to get 9 wins and around 20% probability to win AFC North. The chances of qualifying for the postseason are around 40%.
Roster Moves:
During the offseason, the biggest roster changes took place on the offensive line. Seasoned veterans like Kevin Zeitler and Andrew Whitworth left the team. Even if the injury bug doesn't hit Cincinnati as it did year ago, the gaping hole in the offensive line could be difficult to fill. On the other side, the Bengals upgraded their defense with linebacker Kevin Minter from Arizona.
Fantasy Analysis: Cincinnati Bengals
Cincinnati is predicted to be an above average defense in AccuScore's season long fantasy projections, but the Bengals shouldn't be the first defense picked in the draft or close to it. A healthy AJ Green would be another notable fantasy player, but he is not predicted to be among Top 5 WRs for fantasy points in 2017. QB Andy Dalton has received a boatload of critique about his fluctuating performance, but he is still predicted to be above average starter in NFL and a serviceable second quarterback on a fantasy team.
Cleveland struggle continues
The Cleveland Browns won only one game in 2016 season. That wasn't any big surprise as the last time they were not last in their division or won less than 5 games was over 10 years ago. Constant changes in head coaching and key player positions have not been the right recipe for success for Cleveland. So, will any of this change in the upcoming season?
Accuscore's simulations show minor improvement for the Browns, but two wins out of 16 won't count for much in Ohio. They don't have any reasonable chances to win division or reach playoffs as both probabilities are shown in fraction of percentage. Cleveland's best chances to win games come against New York Jets in week 5 and a trip to Chicago in week 16.
Roster Moves:
The change has been constant on the Browns' roster in recent years. Now, they are relying on rookie QB DeShone Kizer. This decision sliced around two wins from their win totals, as Kizer is going to be learning on the job. The Browns' offensive line should be better than a year ago, as they signed JC Tretter and Kevin Zeitler to improve it. Their top WR Terrelle Pryor left the building and it will be interesting to see how Kenny Britt fills his shoes. Both WRs broke 1000 yards mark in last season without a great QB tossing them the ball, so the change doesn't appear to be a huge step back ro a stp backwards.
Fantasy Analysis: Cleveland Browns
Based on his track record, Kenny Britt would be good pick for your fantasy team's receiving corp. He will be used in many situations and be a clear no. 1 receiver on the team. RB Isaiah Crowell could also be good later rounds pickup for your draft, too. He is predicted to be a Top 15 running back in the league and is expected to break 1000 yards rushing. The Defense is ranked dead last in the league's fantasy projections, and the new rookie QB is in similar company.