Written by AccuScore Staff
Follow @AccuScore on Twitter
FINALLY! AccuScore's Week 1 Picks for the 2017 NFL season are LIVE! So, what are you waiting for?
AccuScore's NFL Picks
Next on AccuScore's NFL 2017 Season previews is the AFC East:
AFC East: 2017 NFL Season Preview

Patriots Still The Team to Beat
Last season ended as Predicted: The New England Patriots completed another great season with an OT victory in the Super Bowl. During the 17 years of Bill Belichick era, the Patriots have ended the season winning the Super Bowls more often than times they've missed the playoffs. Keep in mind that they missed the playoffs with an 11-5 record and it's easy to see that New England in the Tom Brady-Belichick era has been a thing of beauty.
In Accuscore's season simulations, the Patriots are projected to win 13 games and an easily waltz into another AFC East title. The Bills and Jets are more or less not contending, and Miami lost starting QB Ryan Tannehill for season due to injury. According to AccuScore, the AFC East projects to be one of the most lopsided divisions since start of the Accuscore NFL predictions over 10 years ago. The Patriots are pretty much favorite to win every game during the season, but visits to Denver (week 10) and Pittsburgh (week 15) give best chances to opponents to beat New England, but only a catastrophe of epic proportions would see the Patriots missing out on the postseason.
Roster Moves:
The Super Bowl winners are an attractive destination over the summer. The Patriots had a few notable exits with starting RB LeGarrette Blount on the offensive side and few pass rushers (Chris Long and Jabaal Sheard) on the defensive side among others. The biggest loss came during the pre-season, when top receiver Julian Edelman injured his knee and is out for the season. Even though the Patriots have been able to plug in players in a past, this year seems a bit different. Then, again, New England just won the Super Bowl and looks like a surety to make win the division.
Fantasy Analysis: New England Patriots
For fantasy players, QB Tom Brady is still a dependable, good pickup in early rounds. He is predicted to collect the second most fantasy points during the season among QBs. Moreover, New England's defense is projected to be Top 3 in the world of NFL fantasy, alongside Denver and Seattle. As TE Martellus Bennett left the team after just one season to the Packers, Patriots' star TE Rob Gronkowski should carry an additional load. This also means additional fantasy points, and Gronk is predicted to be one of the top fantasy players among TEs. By default, WRs and RBs are more of a committee effort instead of single individual in New England, so AccuScore does not have any WRs or RBs at the top of the Fantasy draft list.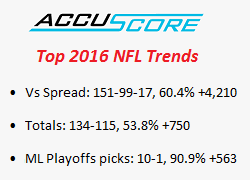 Membership Special: NFL Picks against the spread and totals for 2016 season were nearly +5,000. So, what are you waiting for? Use coupon code football30 and get 20% off a premium All-Sports membership - Join AccuScore Now!
Miami's Lost Season
New rookie head coach Adam Gase guided Miami Dolphins to playoffs first time in eight years at the end of last season. It wasn't very successful trip as they lost to Pittsburgh and the wait for the first playoffs victory since 2000 continues.
Due to the injury of QB Ryan Tannehill, out for the season, Miami's predicted record drops from 9-7 to 6-10. This is a staggering drop off, but simulations simply don't find the linkage between QB Jay Cutler and HC Adam Gase from Chicago very meaningful. However, even with the disappointing projections, Cutler and the Dolphins are projected to finish 2nd in the AFC East. The playoffs appear to be out of reach with around a 5% chance based on Accuscore's predictions. Both games against New England as well as trip to Kansas City are games with a low win probability for Miami.
Roster Moves:
During offseason Miami added few good defensive players to the roster. Ten-year veteran Lawrence Timmons from Pittsburgh and TJ McDonald (who is suspended for first 8 games of the season) from the LA Rams are improvements in their respective positions. As noted, the biggest change to the roster came with QB Tannehill injured himself in training camp and the Dolphins added Jay Cutler out of the commentary booth to replace him.
Fantasy Analysis: Miami Dolphins
RB Jay Ajayi was one of the top RB during last season in NFL: Accuscore's fantasy projections show that he would be top10 RB to collect fantasy points this season as well. TE Julius Thomas and WR Jarvis Landry are projected to be among the Top 25 in their respective position groups, but there won't be too many other players from Miami that you want to draft during first rounds of your season long fantasy draft.
Other 2017 NFL Previews:
NFC North Division Preview
NFC East Division Preview
NFC South Division Preview
NFC West Division Preview

AFC West Division Preview
AFC North Division Preview
Bills decline continues
Buffalo Bills' trend has been pointing downwards during the last three season. Nine, eight and seven wins have been the result of the last three seasons. The Rex Ryan era that started with high promises and expectations was short and full of a lot of hot air. Now, the Bills are taking a new direction under the command of rookie head coach Sean McDermott.
Accuscore has accurately predicted Buffalo's win total during last two years (both under). Now we predict again, that they will land under Vegas line (6.5). It will be a tight call as season predictions show 6 wins for the Bills. However, 5 wins is more probable than 7 wins, so we are confident to make this bet. With 6 wins, the playoffs are more than a long shot with under 5% probability. One of the key games for the Bills is the opening day game when the Jets visit Buffalo. That game has right now the highest win probability for any Bills game during this season.
Roster Moves:
Declining teams usually make many roster moves during offseason, and the Bills are no exception. However, looking the simulations results, these moves are not having an immediate impact to this season's results. There are not any big name additions like the past, but the Bills look likely to re-ignite some careers that are declining. Stephon Gilmore's departure from might be the most difficult to fill on defense. Buffalo basically got rid of all its receivers and with a shaky QB situation, will heavily rely on the running game. Acquiring two veteran fullbacks enhances this plan.
Fantasy Analysis: Buffalo Bills
There is not too much to discuss about top fantasy players in the context of Buffalo Bills. Their QB Tyrod Taylor can make plays with his feet that bring quite a few fantasy points at the end of the season. If he can start the first game and perform as predicted, he could be top10 QB on the fantasy scale. Another top10 fantasy player in his respective position is RB LeSean McCoy. He is predicted to be ranked 4th for this season for fantasy points among all NFL running backs.
Jets Won't be Bouncing Back Yet
The second season of head coach Todd Bowles wasn't as rosy as the surprising first one. The record of 5-11 leaves a lot for improvement, but it looks like Jets are trying to reach better results via a complete rebuild. Usually, this takes more than a season to get any proper results, and the Jets and Browns are most analyst's favorites to battle for the top pick in the 2018 NFL Draft.
Accuscore's simulations show that the Jets are very likely to repeat the same 5-win season as year ago. This means that chances for playoffs are next to nothing. No need to even mention probability for winning the division with the Patriots laughing on the AFC East throne.
Roster Moves:
Part of the house cleaning was to get rid of both QBs - Ryan Fitzpatrick and Geno Smith - and top WR Brandon Marshall. Both Smith and Marshall found new jobs with the New York Giants. Jets starting QB Josh McCown cannot be called any long term solution as a 14th year veteran that never truly turned heads looks more like stopgap, if that. The franchise is clearly looking for a savior from the next year's draft.
Fantasy Analysis: New York Jets
Predictably, the Jets are not featuring any fantasy stars. Actually none of their players are predicted to be among the top 20 in their respective position groups. In WRs, the Jets' best receiver to collect fantasy points is closer to 50 in his projected rank. It is possible that there will be a single fantasy star, but right now, it is difficult to predict who that would or could be.