Written by AccuScore Staff
Follow @AccuScore on Twitter
2018 NCAA Tournament Bracketology: West Region
Xavier has the no. 1 seed in the West after losing in its conference tournament final to Providence, and thought that doesn't spell upset for the Bulldogs against the winner of the North Carolina Central Eagles or the Texas Southern Tigers, AccuScore has Xavier exiting in the Sweet 16 to fellow Bulldogs, Gonzaga.
The Zags have become tournament regulars, and that means something this time of year. UNC Greensboro doesn't expect to pose much of a challenge, but the game against Ohio State should provide a tougher test before Xavier arrives at the Sweet 16. On the bottom half of the bracket, North Carolina and Michigan are the two clear favorites to make the Sweet 16. No.3 Michigan wins the proverbial coin flip with a 51-49 edge in simulations over no. 2 North Carolina in what promises to be a heck of a game if both teams can survive and advance to that point. Then, the computer is calling another 51-49 coin flip on Gonzaga advancing to the Final Four as a no. 4 seed. Gonzaga claimed its sixth straight WCC title with a 20-point beatdown of BYU in the championship game, so the Bulldogs are tournament ready and have the right pedigree to cause a couple upsets along the way.
Simulate your own bracket by clicking on the image below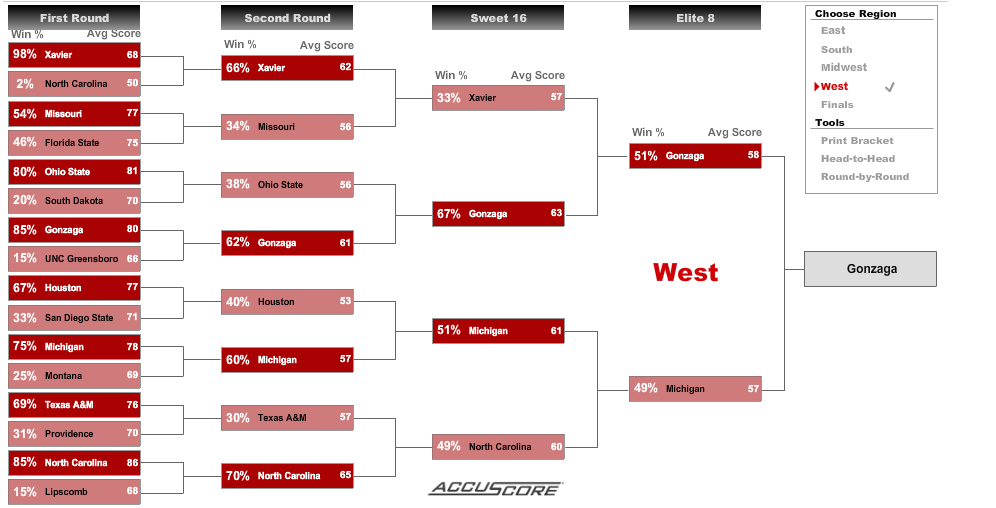 In terms of raw percentages, AccuScore calculates Gonzaga has a 33.54% chance of making the Final Four and 5.27% chance of winning the championship, while North Carolina is close behind with 20.86% chance of making the Final Four and 4.6% chance of winning it all. Michigan is the third most likely team to win the West at 16.63% to reach the Final Four, followed by Xavier at 11.75% emerge as the no. 1 seed out of the West region.
AccuScore has expert picks against the spread and totals for every single tournament game: College Basketball Picks
Not a member, use code NCAAm and get 25% off an All Sports monthly or annual membership for a limited time (Free trial for first time members with monthly membership): Join AccuScore Today!
Be sure to check out all of AccuScore's Region-by-Region Bracketology Previews:
South Region
MidWest Region
East Region