Written by AccuScore Staff
Follow @AccuScore on Twitter
2018 NCAA Tournament Bracketology: South Region
In AccuScore's eyes, the South region features the two most likely winners of the national championship in no. 1 overall seed Virginia and no. 2 seed Cincinnati. Virginia is a 92% favorite to reach the 2nd round and projects to put down Creighton with 86% likelihood, which is pretty dominant. Then, a probable matchup against Kentucky, assuming Davidson or Arizona don't upset Kentucky, allows Virginia safe passage to the Elite 8. Meanwhile, Cincy expects to make quick work of Georgia State and Nevada before beating Tennessee 57% to 43% in simulations. In the Elite 8, it's a coinflip matchup with Virginia winning 48% of simulations and Cincinnati winning 52% of head-to-head matchups to win the South and advance.
Simulate your own bracket by clicking on the image below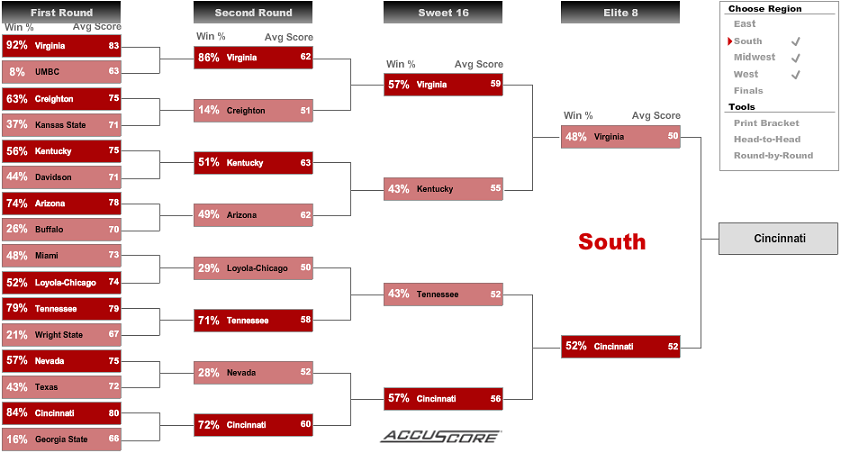 Not a member? Use code NCAAm and get 25% off an All Sports monthly or annual membership for a limited time (Free trial for first time members with monthly membership): Join AccuScore Today!
AccuScore has expert picks against the spread and totals for every single tournament game: College Basketball Picks
This is a bit off, of course, because in terms of raw probabilities, Virginia is AccuScore's most likely national champion with 10.84% probability to win it all. Unfortunately for Virginia, Cincinnati is the second most-likely team to lead into "One Shining Moment" with a 10.55% chance of winning it all. So, ultimately, AccuScore says the champion will most likely come out of the South. Part of why Virginia has a slightly higher probability than Cincy to win it all is that Virginia is favored more heavily in the first couple rounds. As such, Virginia's odds of making the Elite 8 are 53.25% versus Cincy's odds of making the Elite 8 at 47.58%. From that point forward, Cincy is the stronger team and gains ground on Virginia until the odds of winning the tournament for the two teams are separated by about 0.3%.
Be sure to check out all of AccuScore's Region-by-Region Bracketology Previews:
West Region
MidWest Region
East Region