Written by AccuScore Staff
Follow @AccuScore on Twitter
2018 NCAA Tournament Bracketology: Midwest Region
Kansas is a team AccuScore simply doesn't trust as a no. 1 seed. As far as no. 1 vs no. 16 matchups go, Pennsylvania managing a 19% probability of pulling the upset is abnormally high. NC State poses its own problems and looks like it'll be a closer game than the Jayhawks would like at that point. Then, in the Sweet 16, AccuScore is picking Auburn to upset Kansas and reach the Elite 8. In the bottom half of the bracket, Duke and Michigan State look to comfortably reach the Elite 8 with Michigan State winning 53% to 47% in simulations. So, the Michigan State Spartans will face the Auburn Tigers to cut down nets and reach the Final Four. While the Michigan State vs Duke matchup is close, the computer is siding with Michigan State to advance with a 58%-42% edge.
Simulate your own bracket by clicking on the image below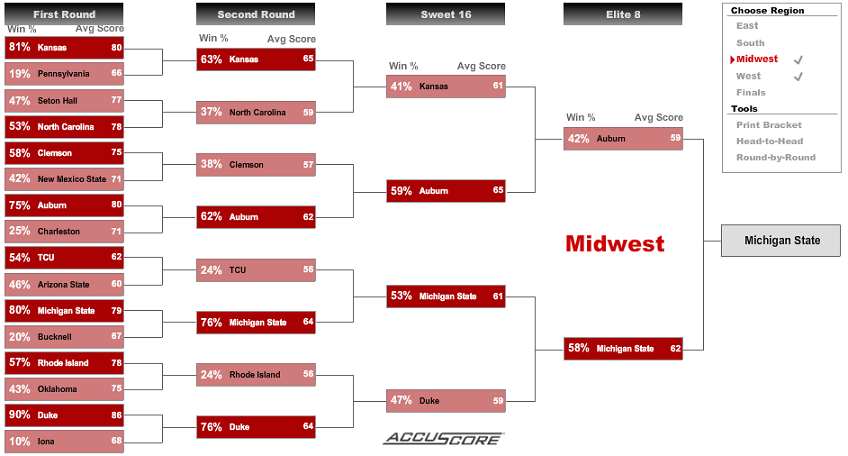 AccuScore has expert picks against the spread and totals for every single tournament game: College Basketball Picks
Not a member, use code NCAAm and get 25% off an All Sports monthly or annual membership for a limited time (Free trial for first time members with monthly membership): Join AccuScore Today!
In terms of raw probabilities, Michigan State is 26.83% to reach the Final Four, which is actually lower than Duke's 28.01% to reach the Final Four, which means Duke has a slightly easier path before it runs into the Spartans in the Elite 8. However, the Spartans are 8.57% to win the National Championship, which is slightly better than 8.12% for Duke, pointing to Michigan State being the better side when elite competition comes knocking.
Be sure to check out all of AccuScore's Region-by-Region Bracketology Previews:
South Region
West Region
East Region