Written by AccuScore Staff
Follow @AccuScore on Twitter
2018 NCAA Tournament Bracketology: East Region
Villanova is not considered the overall no. 1 seed, but it seems to be the consensus candidate to win the Eastern bracket, only AccuScore's computer doesn't think it's a given. Nova has a particularly easy route to the Sweet 16, with only Virginia having better odds to make it past the first four days of madness. Based on AccuScore's simulations, Villanova has a 28.28% chance of reaching the Final Four and an 8.47% chance of winning the National Championship, which are the best odds of any team in the East bracket. Only, Purdue is on Villanova's heels with a 27.89% chance to reach the Final Four and an 8.48% chance of winning it all. Wichita State's odds of making the Final Four are 21.54%, so there is a clear drop off from Purdue and Villanova.
Simulate your own bracket by clicking on the image below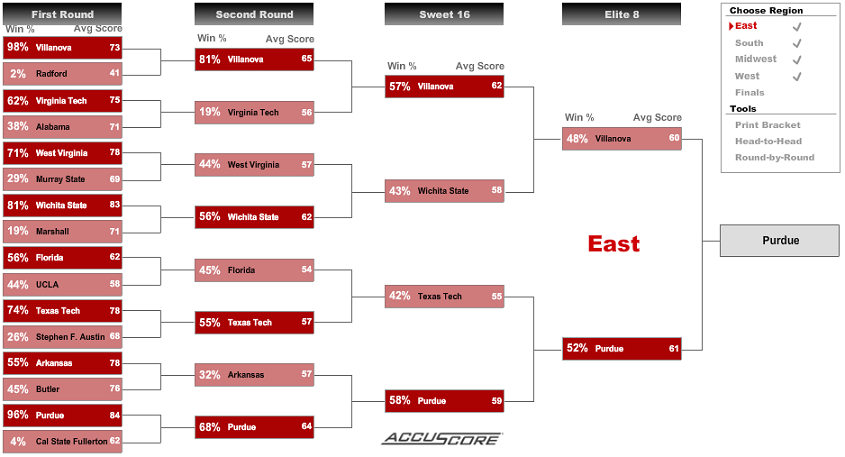 AccuScore has expert picks against the spread and totals for every single tournament game: College Basketball Picks
Not a member, use code NCAAm and get 25% off an All Sports monthly or annual membership for a limited time (Free trial for first time members with monthly membership): Join AccuScore Today!
AccuScore projects Villanova to cruise past Redford and Virginia Tech before putting down the Shockers in the Sweet 16. Likewise, Purdue is expected to demolish Cal State Fullerton before handily beating Arkansas. The game against Texas Tech is a bit trickier, but the East looks like it will come down to a Villanova vs Purdue showdown in the Elite 8. That's a close game, and even though Villanova has better odds to win the tournament, the computer likes Purdue to pull the upset and advance as a no. 2 seed out of the East. Again, this is a close game and both teams are capable of winning it all if they can get by each other. Only one will advance out of the East, and in this case, AccuScore is picking Purdue on the head-to-head.
Be sure to check out all of AccuScore's Region-by-Region Bracketology Previews:
South Region
MidWest Region
West Region