Written by AccuScore Staff
Follow @AccuScore on Twitter
Bulls face Lakers: Tuesday Night Free Preview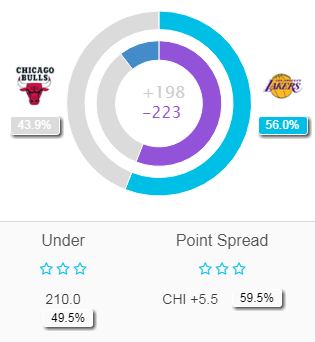 The Los Angeles Lakers are slight 56 percent favorites over the Chicago Bulls. Based on Accuscore's simulations, the Bulls are projected to shoot 43.9 percent from the field, while the Lakers are forecasted to shoot 45.5 percent. Tonight, the Lakers have the rebounding advantage at 48.8 to 46.1. One reason for the slight advantage for the Lakers is that they are committing fewer turnovers at 12.3 vs 15.6 for the Bulls. However, the Bulls make 11 three pointers on 34.8 percent from distance compared to the Lakers hitting 7 three pointers on 30.6 percent.
Not a member? Try AccuScore Free for 7-days: first time members get a free 7-day trial of AccuScore's full site when you register for a monthly membership. Join AccuScore Today!
This could be a head-to-head matchup between top rookies from both teams Lauri Markkanen from Chicago and Lonzo Ball from the Lakers. Simulations predict that it is center Brook Lopez that would tally highest points amount for the Lakers. Ball should get the highest amount of assists in the game.
AccuScore Odds Analysis
Betting lines show the Lakers as clear favorites for this game. Their moneyline for the win is -195 that is around 65% probability to win this ballgame. Since AccuScore has the Lakers winning at a 56-percent clip, the side value is picking Chicago. If you have been betting on every side value in NBA games during this season according to Accuscore simulations, you would have 543 dollars profit in your pocket.
The Total line for the game in simulation is 207, but Vegas lines give higher numbers (210.5). Since start of the season Accuscore's total predictions have generated 1820 dollars profit with bet of 100 dollar per game. Thus far, AccuScore has been correct on the Lakers' total line in 11 of the 17 games. For Tuesday, the computer likes the Under.